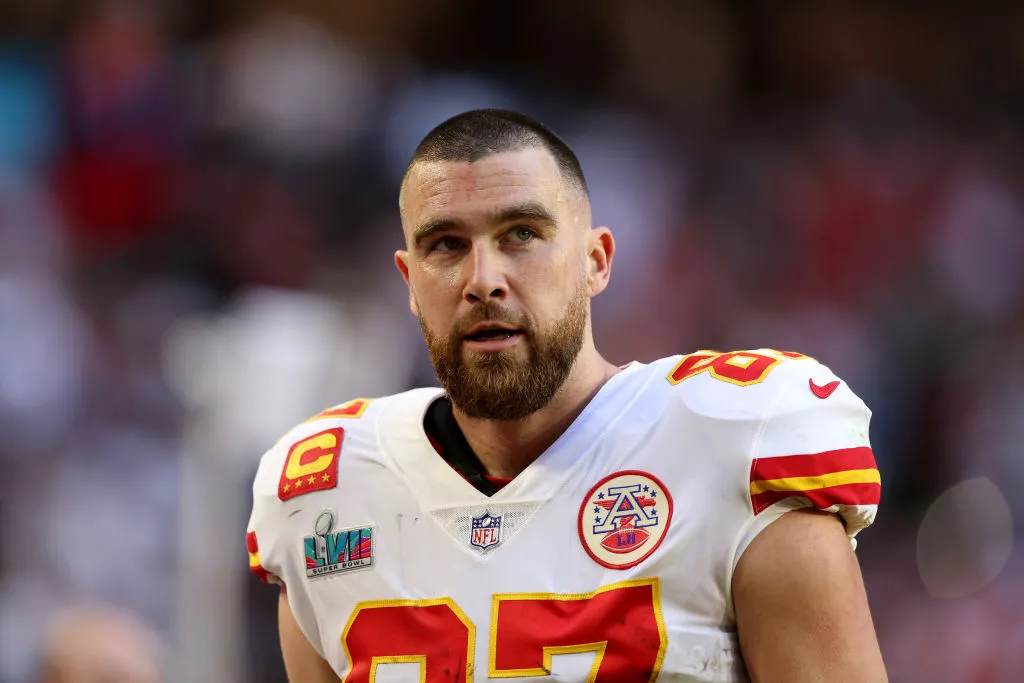 Who is Taylor Swift's New Romantic Interest, Football Star Travis Kelce?
Taylor Swift collects big-name boyfriends as prolifically as she does hits on the Billboard Hot 100. The singer-songwriter superstar has over 15 years of music success, and she's on top of the world right now after embarking on the Eras Tour earlier this year. Interest in her personal life often reaches the same heights as her on-stage work, especially due to her worldwide fanbase.
Swift has dated famous men such as singers Harry Styles and Jon Mayer, actors Jake Gyllenhaal and Tom Hiddleston, and most recently, Joe Alwyn. You can see a common trend in the men Swift likes: fellow entertainers. That's why her newest beau is a curveball nobody saw coming, especially those who actively watch NFL football. After watching Swift perform in Kansas City on the Eras Tour, Kansas City Chiefs tight end Travis Kelce publicly called his shot, encouraging Swift to go out with him and watch one of his football games in Missouri. This past Sunday, Kelce got his wish as the pop icon sat beside Kelce's mother and cheered on the two-time Super Bowl champion.
If you're not into NFL football, you might not have a good knowledge of who Kelce is. That's where we come in! Kelce is actually just as dynamic and talented in his field as Swift is in hers, making this romantic pairing a match made in heaven. Let's get to know the talented pass catcher a little more, shall we?
How long has Travis Kelce been in the NFL?
Kelce is a career-long member of the Kansas City Chiefs since 2013 and has been one of the team's main playmakers for a decade, recording seven 1,000-receiving-yard seasons and breaking the record for most receiving yards by a tight end with 1,416 yards in the 2020 season. Kelce's game went to an entirely new level when Patrick Mahomes became the quarterback of the team in 2018.
Between Kelce's strength and speed and Mahomes' agility and creativity on the run, the combination has been impossible for NFL defenses to contain in the last five years. The Chiefs have gone to five consecutive AFC Championship games with Kelce, and they have won two Super Bowl championships, most recently last year against the Philadelphia Eagles.
Does Travis Kelce have social media?
Travis Kelce has been one of the most marketable athletes in the NFL for 10 years now. Due to his loud personality off the field and talented skills on the field, Kelce's brand and image match almost any non-quarterback in the league. Kelce now has 3 million IG followers, which has gone up in just the 24 hours since Swift attended the Chiefs' game against the Chicago Bears on September 24. Let's take a look at some of Kelce's Instagram posts.
Kelce celebrates a Week 2 win in style with stylish tunes and fashionable retro fits before and after the game. Kelce caught a touchdown in the Chiefs' 17-9 victory over the Jacksonville Jaguars. One commenter asked why Kelce looks like Aladdin and Pablo Escobar simultaneously. I'm not sure whether this is a compliment or not, but Kelce is surely drawing a lot of eyes!
Kelce has started to get into podcasting with his brother, fellow NFL star for the Philadelphia Eagles, Jason Kelce. The two bros have a friendly rapport and tell fun childhood stories, such as when Travis gave Jason a spork during preschool, and Jason decided to use the utensil to stab a kid next to him. The two talk about their father's opinion of the incident, and you'll surely get a laugh from the banter.
NFL players love to dance and celebrate in the end zone after scoring a touchdown, and Travis Kelce has some of the best moves in the game! The handsome hunk shows off his swag in this video compilation of his greatest hits after hitting pay dirt for the Chiefs over and over again.
Kelce has had a variety of beard and hair combinations throughout the years in the NFL. This post shows off his sexiest looks in a slideshow that Swift fans will surely want to take a look at. No wonder Travis caught Taylor's eye. The tight end has a great smile and youthful exuberance while playing the game he loves and dominates every Sunday.
Kelce celebrated the Chiefs winning the Super Bowl by visiting the White House and meeting President Joe Biden. As usual, Kelce enjoyed himself and made sure to take advantage of the opportunity by sitting in the Oval Office and taking a look at the lush lawns around the property.
Kelce surely loves to celebrate, but he reminds fans you've got to fight for your right to party with the hit Beasty Boys song. Kelce sings along to the classic with Jimmy Fallon on "The Tonight Show" in February 2023.
---