Gay Providence: The Latest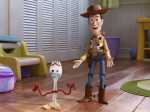 "Toy Story 4" brought the box office to life with a $118 million opening weekend after a three-week slump of underperforming sequels, but the Pixar film's below-expectations debut didn't quell continuing concerns about a rocky summer movie season.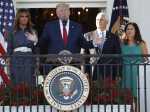 President Donald Trump says he hesitated when he was asked about backing Vice President Mike Pence if Pence runs for president in 2024 because the question caught him off-guard.
The documentary "Leaving Neverland" presented a disturbing depiction of Michael Jackson as a child molester, but the initial wave of negative publicity hasn't greatly diminished the King of Pop's image or the enduring popularity of his music.
Press secretary Sarah Sanders seems to be in an enviable position as she leaves the White House for a possible run for governor in her home state of Arkansas.
In this column, I'll share some insights from Justin Lehmiller, an esteemed Research Fellow at The Kinsey Institute and author of the book 'Tell Me What You Want: The Science of Sexual Desire.'
Major retailers have diversified their inventory for Pride month, selling apparel and other goods that celebrate LGBTQ culture to mark the 50th anniversary of the Stonewall uprising.
Thousands of supporters of LGBT rights have marched through the center of Kiev, the Ukrainian capital, under a heavy police presence to separate them from opponents.
Casey Williamson's love of adventure led him to winter snowboarding in Vail, Colorado, and summer skydiving in Moab, Utah. A year-and-a-half ago, he found his way to Hawaii, where he could skydive year-round.
On stage before a throng of party faithful in a key early primary state, Joe Biden's leading rivals for the 2020 Democratic presidential nomination sought Saturday to undercut the former vice president's argument that he's the ideal Democrat to oust Trump
Woody Guthrie's children, Arlo and Nora Guthrie, are king and queen of this year's Coney Island Mermaid Parade.
A look at the status of the major figures in the life and death of Michael Jackson after 10 years, starting with the King of Pop himself.
Providence, RI
"The Rocky Horror Show" is another huge triumph for Out Loud, which specializes in creating offbeat and edgy entertainments.
When the mother of 15-year-old Socrates dies, he's left alone to survive and deal with his sexuality in one of Sao Paulo's roughest ghettos in this very unforgettable film.
Lawmakers in New York state have voted to eliminate criminal penalties for public possession and use of marijuana after efforts to legalize pot stalled.
Curbing damage to Earth's protective ozone layer is widely viewed as one of the most important successes of the modern environmental era. Congratulations may have been premature: Ozone concentrations in the lower stratosphere are falling.
Your monthly car payment is not only a ticket to freedom, letting you enjoy summer road trips, but also a lifeline that gets the kids to school and you to work. But if it consumes too much of your budget, that ticket can lead to financial trouble.
Self-driving car pioneer Waymo is teaming up with automakers Renault and Nissan to make its first journey outside the U.S. with a ride-hailing service that will dispatch a fleet of robotaxis in France and Japan.
Sitting in traffic, being in the line at the DMV, and walking around with toilet paper on their shoes are some of the things people would rather do than have a bad or unflattering hairstyle, according to new research.
Treating the cause of erectile dysfunction instead of just treating the symptoms has eluded many — until now.
Hawaiian Airlines has grown to serve more than 10 million passengers annually, making it the largest and longest-serving carrier based in the 50th state. And Hawaiian shows no signs of slowing down — or altering its commitment to excellence.
The Provincetown Film Festival ended its 21st edition on Sunday night at the Pilgrim House. See who came out.