Gay Providence: The Latest
EDGE writer John Amodeo unwittingly roused jazz & cabaret star Ann Hampton Callaway for a recent conversation. The singer heads to the East Coast next week for dates in NYC & Boston.
Saturday night, the Washington Heights neighborhood held their new weekly LGBT all-inclusive party with pop, urban and Latin mix beats by DJ Nesto who kept the crowd dancing all night long.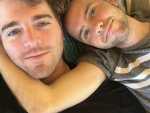 It's been a wild few days for YouTube star Shane Dawson.
A contestant on "American Idol" is making headlines this week after coming out as gay during a performance of an original song.
Despite previously saying he'd be down to star in a sequel to the gay romance drama "Call Me By Your Name" actor Armie Hammer has apparently changed his tune.
EDGE caught up with Jack Tracy to discuss the rigors and opportunities of his hands-on, low-budget filmmaking, delve into the fantastical mirror that "Snowflake" holds up to our times, and hear about his many ongoing projects.
It's only 15 minutes, but this major burn includes narrow press ups, mountain climbers with lateral moves and more thanks to Joe Wicks, aka The Body Coach.
The new trailer for Quentin Tarantino's new film "Once Upon a Time in Hollywood" is here.
Contracts with so-called restrictive covenants are now common in medicine, although some states limit their use.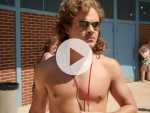 Netflix is ready to put your 80s nostalgia in overdrive with its new trailer for "Stranger Things" Season 3.
Kellyanne Conway's husband is a "husband from hell!" President Donald Trump declared Wednesday, escalating his awkward public fight with the spouse of a top aide.
Providence, RI
Lauren Yee's new play "The Song of Summer" centers around a pop singer's quest for the truth, and maybe a resolution of what happened so many years ago. Trust me, it's fun to find out what happens.
"Yoga Play's" bigger questions about how we try to measure sincerity in material ways is the sort of thing art and media don't often examine closely, and it's hard to imagine another show that encapsulates capitalist absurdity so, well, authentically.
The rising water that has damaged hundreds of homes and been blamed for three deaths has also taken a heavy toll on agriculture, inundating thousands of acres, threatening stockpiled grain and killing livestock.
Search warrant documents made public Tuesday show the FBI used highly secretive and controversial cellphone sweeping technology to zero-in on President Donald Trump's former personal lawyer.
If you're hoping to reduce household food waste, experts say there are two key things to do: Eat what you have, and buy only what you need.
German automaker BMW says its profits this year will be "well below" last year's due to higher raw materials prices, the costs of compliance with tougher emissions requirements and unfavorable shifts in currency exchange rates.
World-renowned tidying expert Marie Kondo is sparking joy among shoppers feeling the urge to clean out their homes. But once you master the Japanese organizing expert's novel approach to de-cluttering, what do you do with all the stuff you don't want?
Wendy Williams says she's living in a "sober house" because of addiction struggles.
Luxury camping (aka "glamping") is coming to the to New York's East End with every luxury that summer visitors expect.
Talk about POV. In what some might call a personal tech advance, a UK company called Julz has released a product that combines the use of silicon cock rings and video called the "Cock Cam."