Gay Providence: The Latest
Joshua Lyon didn't think he'd get to work with Edie Windsor in writing her biography, but he got the gig and worked on it with the LGBTQ icon before her death. EDGE caught up with Lyon to talk about the finished book, "A Wild and Precious Life."
Brigham Young University will allow same-sex couples to compete in a national ballroom dance competition hosted by the school, a move that goes against the institution's code against gay relationships, officials said.
The winners of last year's acting Academy Awards will return to the Oscar stage next month to present the coveted statuettes.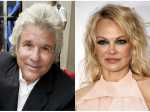 Pamela Anderson has married movie producer Jon Peters.
Senate Majority Leader Mitch McConnell abruptly eased his restrictive proposed rules for Trump's impeachment trial, backing off the condensed two-day schedule to add a third for opening arguments after protests from senators, including Republicans.
Actor Wilson Cruz says a new documentary on the evolution of LGBTQ depictions on television is a "love letter" to the medium's power.
Alarmed by a deadly new twist in the nation's drug addiction crisis, the government will allow states to use federal money earmarked for the opioid epidemic to help growing numbers of people struggling with meth and cocaine.
Rocker Ozzy Osbourne says that he's been diagnosed with Parkinson's disease, a nervous system disorder that affects movement.
Anxiety grew both at home and abroad after Chinese government expert Zhong Nanshan confirmed fears on state television late Monday that the new type of coronavirus can spread from human to human.
Hillary Clinton says "nobody likes" her former presidential rival Bernie Sanders, even as the Vermont senator remains entrenched among the front-runners in the Democratic race, with the Iowa caucus beginning in less than two weeks.
Media sources report that the strip club dancer convicted in the 2016 shooting death of a Comcast executive has received a life sentence.
Providence, RI
Leatham and his creative team are in top form, but the results of their work left me depressed.
Though there are powerful observations in "My Name is Lucy Barton" about the nature of memory, family, and parent-child relationships in particular, it is not a captivating enough vehicle for its formidable star.
Planned Parenthood announced Tuesday that it is endorsing a Democratic challenger to Republican Sen. Susan Collins in Maine, saying Collins "turned her back" on women and citing her vote to confirm Brett Kavanaugh to the Supreme Court.
Prime Minister Shinzo Abe said Monday that Japan will form a space defense unit to protect itself from potential threats as rivals develop missiles and other technology.
Many deductibles reset Jan. 1, forcing patients to pay thousands of dollars for care or prescriptions before most insurance coverage starts.
Tesla is disputing claims by a California man that all three models of the company's cars can suddenly speed up on their own without the driver touching the accelerator pedal.
A humble stone fountain, overgrown scrubs and flowers and white sheets drying on a line met Chanel's curious guests, including Pharrell Williams, on Tuesday inside the Grand Palais in Paris.

The head of a Chinese government expert team said Monday that human-to-human transmission has been confirmed in an outbreak of a new coronavirus, a development that raises the possibility that it could spread more quickly and widely.
Venezia Nativa, an association of entrepreneurs on Burano and two neighboring islands, is trying to breathe fresh life into old trades to attract new residents and persuade young islanders to stay.
Madonna is cancelling another concert from her "Madame X" tour for medical reasons, following her decision to nix a Boston show back in November.