Gay Providence: The Latest
John Travolta's John Gotti biopic "Gotti" has topped the 39th annual Razzie Awards with a co-leading six nominations, while President Donald Trump also earned a nod for worst actor.
British police have spoken with Prince Philip after the husband of Queen Elizabeth II was photographed apparently driving without wearing a seatbelt — just two days after he was involved in a serious car crash.
The Vatican received information in 2015 and 2017 that an Argentine bishop close to Pope Francis had taken naked selfies, exhibited "obscene" behavior and had been accused of misconduct with seminarians.
Bitter cold is setting in after a major winter storm blanketed a wide swath of the country in snow, sleet and rain this weekend, creating dangerously icy conditions,
The student who stared and smiled at an elderly Native American protester drumming in his face outside the Lincoln Memorial says he did nothing to provoke the man in the videotaped confrontation and was only trying to calm the situation.
Frigid air and high winds are causing dangerous travel conditions throughout the eastern U.S. after a powerful winter storm pummeled the region over the weekend.
The duo, every bit as formidable now as when they won that first title, face the Rams, now back in Los Angeles, in a Super Bowl rematch of sorts that pits the NFL's past against its future.
Thirty-one days into the partial government shutdown, Democrats and Republicans appeared no closer to ending the impasse than when it began.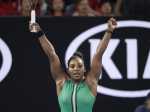 Williams wrapped up her 6-1, 4-6, 6-4 victory over Halep in a contest filled with momentum swings and fantastic play by both, it was clear which woman really is No. 1.
Sen. Kamala (KAH'mah-lah) Harris is running for president.
President Donald Trump's lawyer Rudy Giuliani left open Sunday the possibility that Trump and former personal attorney Michael Cohen might have discussed Cohen's congressional testimony.

Providence, RI
Diana Lobontiu delves into the "Well" that is Lisa Kron's meta marvel of a play, and takes EDGE with her. Read what she has to say about health, wellness, fiction illuminating reality, and, er, the "A Track."
M. Night Shyamalan scored his fifth No. 1 movie as the director's "Glass," while not quite the blockbuster some expected, nevertheless dominated Martin Luther King Jr. holiday weekend at the box office with $40.6 million in ticket sales.
As the world's financial and political elites convene here in the Swiss Alps for the World Economic Forum, their vision of ever-closer commercial and political ties is under attack — and the economic outlook is darkening.
The only total lunar eclipse this year and next came with a supermoon bonus.
Challenging the Trump administration on a top consumer issue, leading congressional liberals are proposing legislation that would radically reduce U.S. prescription drug bills by linking prices to lower costs in other countries.
Some new 2019 vehicles offer shoppers a way to get both all-wheel drive and great fuel economy.
Here are some highlights of Sunday's installment of Paris Fashion Week.
While the Trump administration decides whether to adopt a controversial policy that could jeopardize the legal status of immigrants who use public programs like Medicaid, doctors and clinics are torn between informing patients about the potential risks.
A major winter storm that has brought some of the coldest temperatures of the season covered a large swath of the U.S. in snow as it wreaked havoc on air travel and caused slick road conditions throughout New England Sunday.
Providence, RI
Chris Harris, the party promoter who died this past week, is being remembered over the next two days in Providence.
The sky over San Francisco brightened up to welcome 6,000+ people to this year's Women's March. Community activists from every minority group came out to support women across the US!