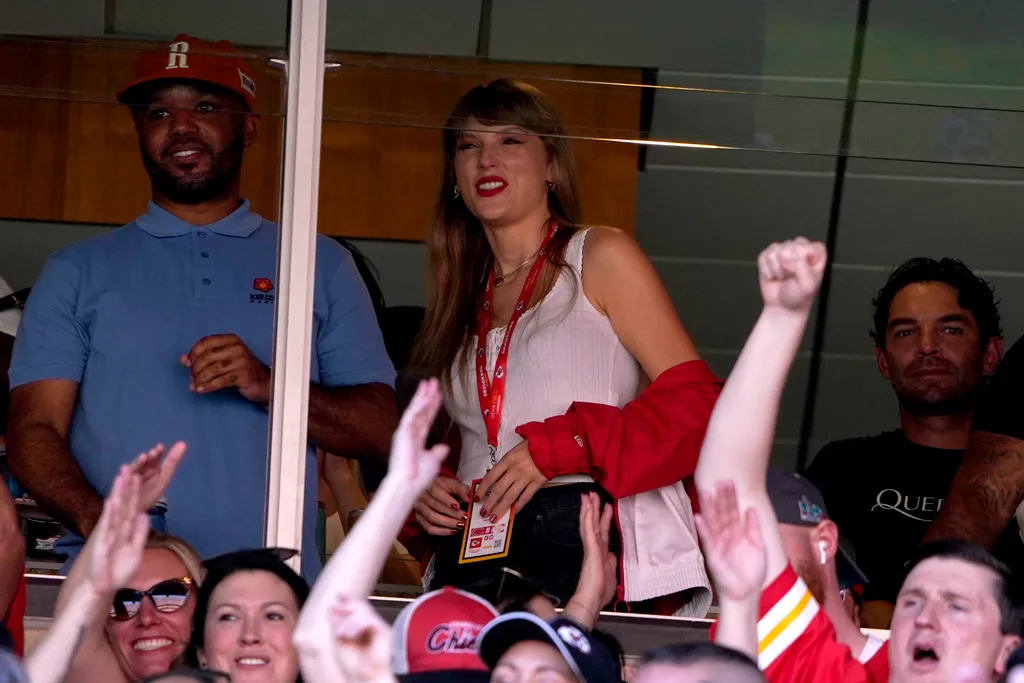 Analysis: Thriving NFL Benefits Most from Taylor Swift-Travis Kelce Relationship
Rob Maaddi
READ TIME: 3 MIN.
The NFL didn't need a popularity boost before Travis Kelce became enchanted with Taylor Swift.
They'll gladly welcome millions of Swifties to watch this love story unfold.
The biggest news that came out of Week 3 wasn't Tua Tagovailoa and the Miami Dolphins lighting up the scoreboard against Denver with only the fourth 70-point performance in NFL history.
It wasn't Arizona shocking Dallas, Houston upsetting Jacksonville or Matt Gay kicking four 50-yard field goals to help Indianapolis knock off Baltimore.
Instead, Swift stole the headlines by simply showing up at Arrowhead Stadium to watch Kelce and the defending Super Bowl champion Kansas City Chiefs destroy the woeful Chicago Bears. The pop star joined Donna Kelce in a suite and mesmerized the world with her high-fiving, glass-pounding, chest-bumping enthusiasm.
Swift then left the stadium with Kelce and accompanied the four-time All-Pro tight end to an after-party with his teammates.
Two-time Super Bowl MVP Patrick Mahomes was impressed.
"She was really cool. Good people," Mahomes said.
Andy Reid joked that he played matchmaker.
"I set them up. She's tremendous at everything she does. I haven't got to meet her, but if she ends up with Travis, I'll probably get to meet her," Reid said.
Even Bill Belichick shared his thoughts on America's newest power couple.
"Well, I would say that Travis Kelce's had a lot of big catches in his career. This would be the biggest," Belichick said in a radio interview on WEEI in Boston.
There's no shaking off the Swift-Kelce buzz if the NFL's grumpiest coach is dropping lines about their possible relationship.
Everything really has changed.
Kelce's No. 87 jersey sales skyrocketed this week, spiking 400%. Television ratings for the Bears-Chiefs game soared despite the lopsided score. A total of 24.3 million viewers tuned in, making it the second-most watched game this season.
Dallas Mavericks owner Mark Cuban took notice.
"Like literally, she impacts economies when she brings her tour to a city," Cuban said on ESPN's First Take. "She is literally the most popular artist on the planet right now, not even close. So what I'm going to tell ya, Taylor, if you are listening, sorry Travis, break up with him. I got a bunch of good looking, single guys that play for the Dallas Mavericks. I gotchu, I gotchu."
Kelce responded on X, formerly known as Twitter, telling Cuban to sign him to a 10-day contract.
Kelce, who joked about paparazzi staking out his house, has had plenty of fun in the spotlight but he plans to keep things quiet going forward.
"What's real is that it is my personal life. I want to respect both of our lives," he told his brother, Eagles All-Pro center Jason Kelce, on the " New Heights with Jason and Travis Kelce" podcast.
But, two is better than one. So, Swift is reportedly heading to MetLife Stadium to see Kelce and the Chiefs take on the Aaron Rodgers-less New York Jets on Sunday Night Football.
That's another big win for the NFL since it'll be difficult for the Jets to keep up with the high-flying Chiefs if Zach Wilson is still their quarterback. He should be since the team only signed Trevor Siemian this week. If the score gets out of control, expect the Swifties to stick with the NBC broadcast to see when the television cameras pan to the 12-time Grammy Award winner.
Betting sites are offering odds on how much face time Swift gets during the game, what color she will wear, which broadcaster says her name first, who she'll sit with and much more.
Nobody reaps the benefit of this relationship more than the NFL, which already was doing just fine before Swift crashed the stadium and brought her 367 million followers on Instagram and X to the party.
The attention exceeds even the league's wildest dreams.
---