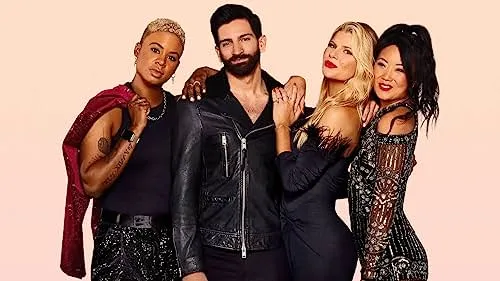 Review: 'Swiping America' is a Refined and Heartfelt Dating Reality Show
Max, née HBO Max, has a brand-new dating reality show called "Swiping America." They are calling it an eight-part "rom-doc," although that definition doesn't exactly roll off the tongue. Nevertheless, it's an accurate description of this charming, funny, and unexpectedly touching show. It's reality TV for the refined viewer.
The four singles – we'll call them millennials – are Kris Kelkar, Ashleigh Warren, Reagan Baker, and Kesun Lee. They are set up on dates ("Date Zero") using a dating app vetted by the production crew. Their matchmaking skills are adequate in finding a wide array of personalities for the lovelorn cast.
Kris and Ashleigh are the gay and lesbian singles, respectively, while Reagan and Kesun are the straight females. The show hopes to thwart the proximity principle, wherein the cast escapes their regional dating pools by traveling to eight U.S. cities to broaden their scope.
What is unique about this premise is that it proves people are truly products of their environment. When they go to New Orleans their matches are creative and mysterious, whereas in Colorado people are more laid back and terrestrial. Our four singles are from New York City, which is a dense melting pot, but having them distance themselves from that relentless energy gives them a lot more room to concentrate on themselves and their dates.
However, these lowered population densities test our subjects' comfort zones. For example, Kris, our gay single, is somewhat introverted and is forced to confront his emotional restraints. The flirty and carefree Reagan attracts men like a Katamari ball and, in doing so, eventually finds herself in a four-pointed conundrum.
Ashleigh is a confident type A who is preoccupied with a relationship twist we won't spoil, and the fun-loving Kesun wears her heart on her sleeve, hellbent on finding a husband.
The quadrilateral friendship of Kris, Ashleigh, Reagan, and Kesun is full of great chemistry, each genuinely hoping the other finds love while supporting their character defects. It's refreshing to see a dating reality show not bait the audience with provoked drama. These singles aren't manipulated by free booze, and they drink responsibly.
This journey culminates in a final trip to Hawaii. Our four friends must choose which one of their dates from the cities they visited to bring along; some choices are easier than others.
Unfortunately, one thing that "Swiping America" does is dox a candidate's social weaknesses for dramatic, sometimes comical, effect. A dater who is socially awkward or off-beat is fodder for the editing team. One of Ashleigh's dates couldn't quickly answer the question "What is your greatest accomplishment?," and the camera continuously cuts to her in a panicked state of thought. The feeling isn't that she is mentally sorting through many answers, but that she doesn't have a single one. That's not fair, given she has to go back out into the real dating world with that hanging over her head. To their credit, the four main characters are never mean or disrespectful about their failed matches.
Aside from that, "Swiping America" is an engaging and invigorating show. It is a beautifully shot series with great music. Unlike the train wrecks of some other bubblegum reality shows (like the misogynistic "Bachelorette" or the endless jiggle of "Love Island"), "Swiping America" contains some real people maneuvering through all the cringe, all the rejection, and all the excitement of blind dating.
The four main participants are so charming and relatable you want them to succeed. In a saturated market of over-the-top reality TV stars, it's nice to see MAX taking a more sophisticated and honest approach.
The first two episodes of "Swiping America" premiere on June 15 on Max. Subsequent episodes will drop throughout the month.
---