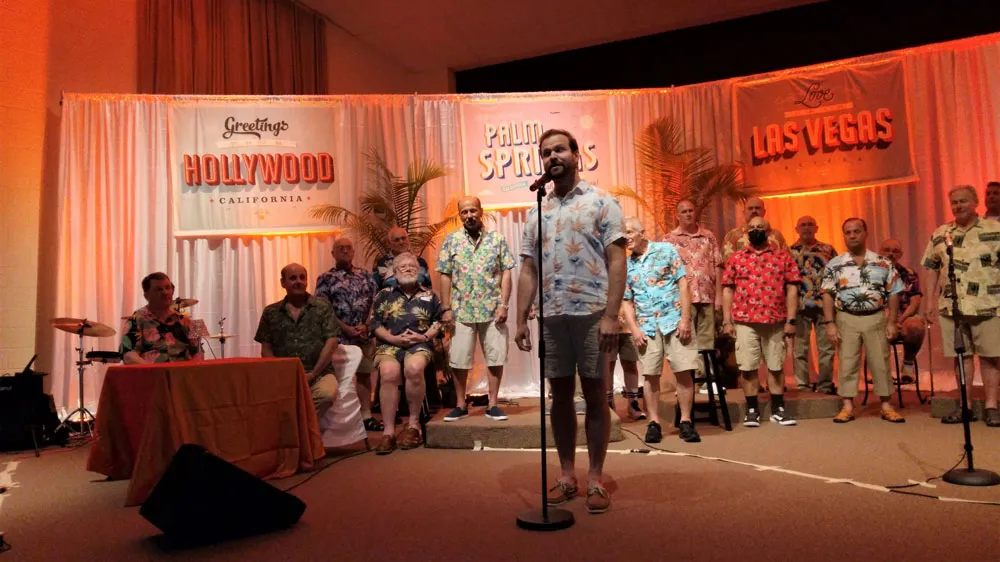 Review: Rhode Island Gay Men's Chorus: 'Are We There Yet?'
The Rhode Island Gay Men's Chorus presented their spring concert series, "Are We There Yet?" at the Scottish Rite Masonic Center in Cranston from June 9-11.
Originally scheduled for June 2020, but postponed due to COVID, the show was a musical trip around America, ranging from the prairies to the oceans, the country to the cities.
Under the direction of Kim Kuda, and with accompaniment from Joel McCoy, the chorus provided a breezy and light-hearted show.
Highlights included a soulful "California Dreamin'," funky "Hernando's Hideaway," and "Kansas City, OK" from the classic musical "Oklahoma!" Matthew Balsamo delivered an eloquent performance of the Frank Sinatra standard "My Way."
Daniel Larson was achingly poignant on "Out There" from Disney's "The Hunchback of Notre Dame." Louis Charron delivered terrific vocals on Barry Manilow's "At the Copacabana." Steven Pacheco gave a wonderfully campy take on "I'm Just a Little Boy from Little Rock" from "Gentlemen Prefer Blondes." The ballad "Walk a Mile" offered a tender plea for understanding, with the refrain "see the world through your neighbors' eyes."
There were some audience singalongs, including John Denver's "Take Me Home, Country Roads" and the much-beloved "Over the Rainbow" from "The Wizard of Oz."
Vocalist Keith Carignan gave a powerful interpretation of the Journey ballad "Faithfully," which benefited tremendously from Alan Billingsley's orchestration.
.
An encore of "Out on the Bay" was joyfully infectious, and a great way to end an evening filled with tropical shirts, smiles, and love.
The RIGMC will return in December for their holiday concert series at Beneficent Congregational Church in Providence.
For more information, visit the Rhode Island Gay Men's Chorus website at https://rigmc.org.
---
Joe Siegel has written for a number of other GLBT publications, including In newsweekly and Options.