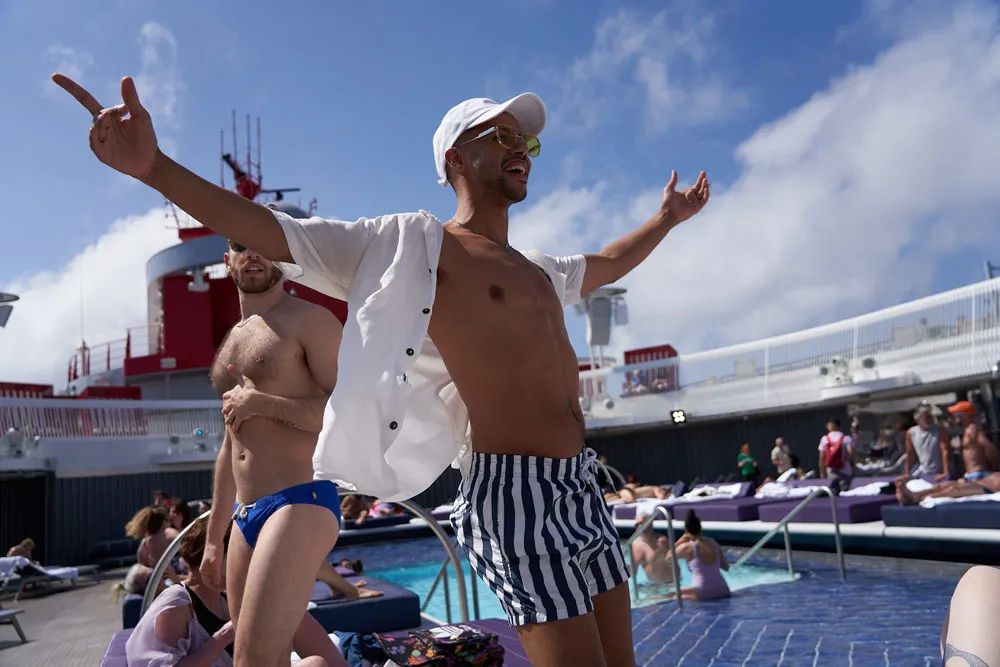 I Lost My Pandemic Travel Virginity on a Cruise Ship, Don't Hate Me
Among the pandemic's many cultural casualties, our willingness to travel and talk about travel has suffered devasting blows. Irate reactions – both pro and con – have flooded social media feeds as we navigate the ever-shifting tides of safety versus sanity. So, after more than two years of living in a self-imposed cloister, I packed my masks and sunscreen to spend six days aboard Scarlet Lady, Virgin Voyages' inaugural cruise ship.
While the Caribbean waters were occasionally choppy on my recent five-night cruise, Sir Richard Branson's latest venture offers smooth sailing for those seeking grown-up fun. All "sailors" (Virgin Voyages' moniker for passengers) must be 18 and over. The first of four ships scheduled for delivery through 2023, Scarlet Lady can accommodate up to 2,770 sailors, a purposefully downscaled direction compared to LGBTQ+-friendly Celebrity Cruises, whose newest Edge Series ship, Beyond, can accommodate up to 3,260 passengers, while Royal Caribbean's soon-to-launch Wonder of the Seas will max out at 6,988 passengers.
Size queens may want to reconsider their priorities after a Scarlet Lady sailing. What she lacks in size, she makes up for in personality.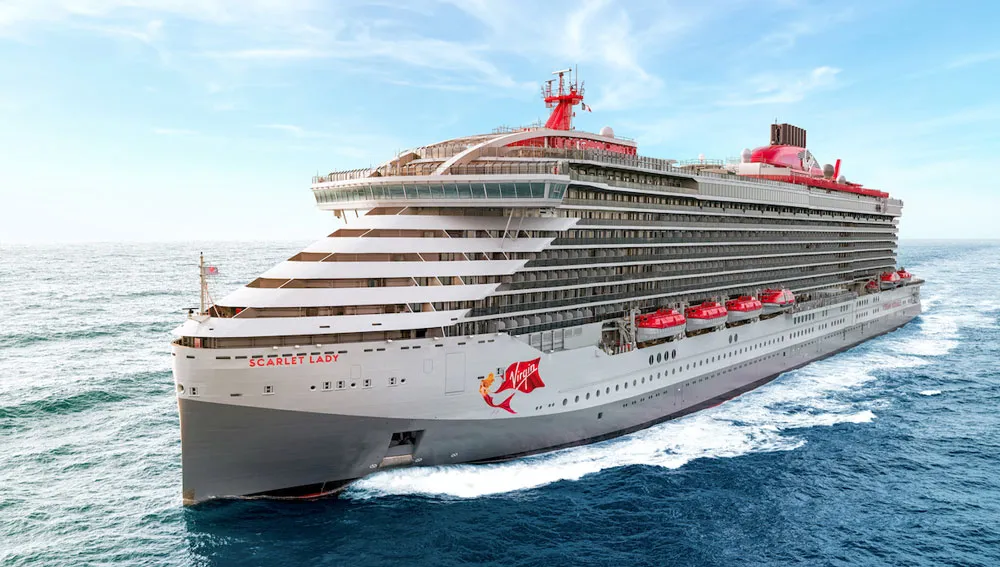 The Virgin Vibe
As EDGE previously reported when Scarlet Lady arrived last fall for its U.S. debut, the vessel, with its gray hull and relatively stark exterior highlighted with Virgin's signature red branding, lacks the immediate wow factor of its competitors. But once inside and with days to explore its many spaces, the collective design approach reveals unique yet complementary elements.
Dubbed "Adult-by-Design," Virgin's digital-forward approach encourages sailors to download the app for access to everything from daily programming and dinner reservations to booking off-shore excursions. Free Wi-Fi allows sailors to post their experiences to social media throughout their trip, a savvy marketing investment that turns each sailing into a ship full of micro-influencers.
"Essential drinks" (everything but alcohol), gratuities and all restaurant experiences are included, which make for a smart luxury experience. However, there's still plenty of places to rack up a bill with a wrist fob that can be used to purchase a Bvlgari bobble at the brand's first at-sea pop-up shop, a tattoo at Squid Ink, the ship's onboard tattoo shop with a starting price of $150, along with haircuts, grooming and spa treatments, and so much more.
Scarlet Lady's hidden power is her design diversity. Once you get over the ship's sterile exterior and somewhat bland Aquatic Club (the pool and oversized hot tub can be found on Deck 15), there's plenty of charm to discover.
One of my favorite hang-outs was The Dock, a Mediterranean-style enclave with day beds, natural wood architectural details and inspired mezze bites. I quickly became a regular at Sip, a gorgeously designed lounge that gives new meaning to "champagne all day" with various offerings of Moët & Chandon, Krug, Veuve Cliquot and caviar (both on Deck 7). The massive Redemption Spa (Deck 5) is worth the extra fee for a few hours of steam, sauna, plunge pools and more. And when you want to take center stage, free-to-book karaoke suites deliver the chance to shine like a rock star. A libation-infused hour of belting show tunes, classic rock and Barbra can do wonders for the soul.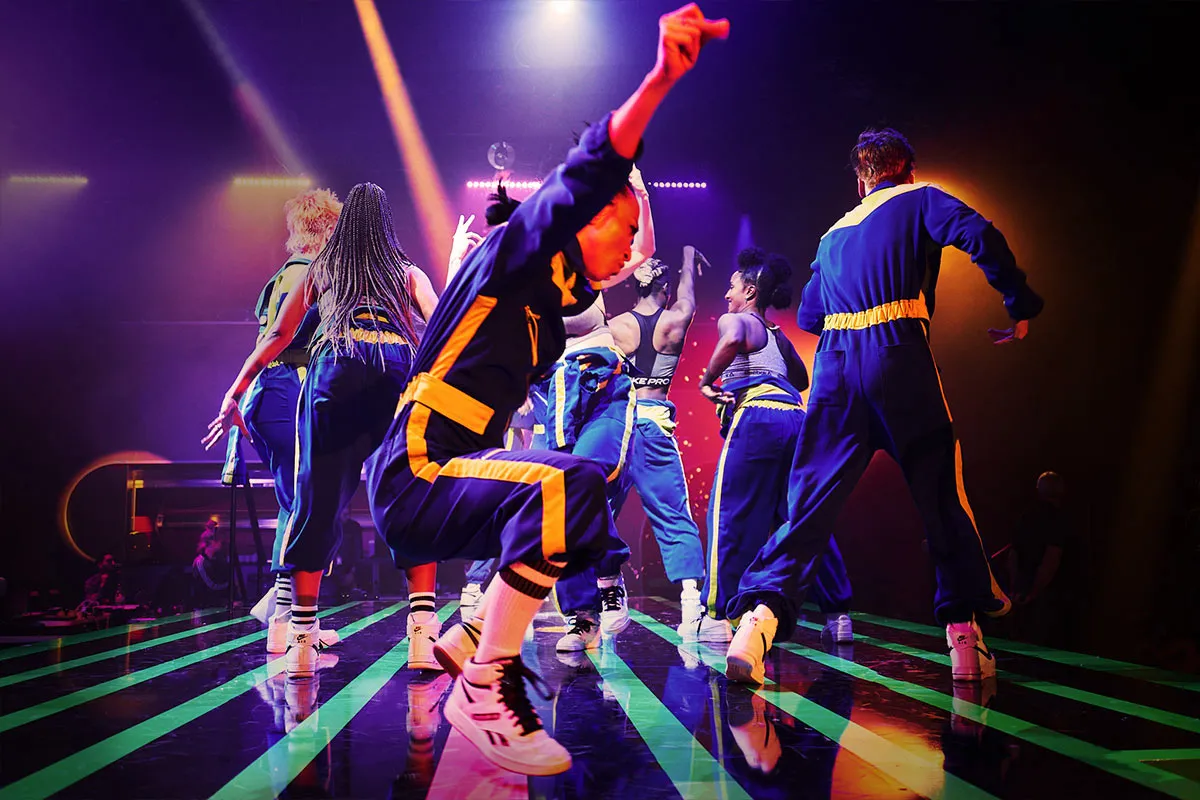 LGBTQ+-Inclusive and Diverse Entertainment
If the thought of cruise ship entertainment makes you cringe, board Scarlet Lady with an open mind and you'll be wildly surprised, as was the creative collective tapped to reimagine the ship's line-up with an immersive, festival-like mentality. The main performance space, The Red Room, forgoes a traditional proscenium to offer a multi-functional venue that can be reconfigured as an alley with stadium seating on either side or an open floor plan for immersive experiences.
"We can be spectators, participants or fully immersed," says Vice President of Entertainment Richard Kilman of how Virgin Voyages commissioned and curated its inaugural programming, drawing a global team of award-winning, multi-disciplinary artists interested in pushing boundaries both physically and artistically. The company's market research indicated that prospective sailors would expect the unexpected, and that's exactly what Kilman set out to deliver.
Gypsy Snider, co-founder and acting artistic director of The 7 Fingers, had just been approached by another cruise line to collaborate but described her observation as "the antithesis" of The 7 Fingers ethos. The Montreal-based arts collective uses breathtaking acrobatics to produce emotionally resonant theatrical narratives. Bringing that vision on board a ship would require a thoughtful approach, both logistically and creatively.
But Virgin Voyages didn't want a Vegas-style review. Instead, Snider and her team considered the qualities that come to the surface when people go on vacation, particularly the ocean's open waters and the vastness of our emotional and cultural connectivity. The result was two shows, "Ships in the Night" (a non-linear movement tapestry of our desire for intimacy and connection amid a digitally-driven world) and "Duel Reality" (a modern re-telling of Romeo and Juliet featuring The 7 Fingers' gravity-defying acrobatics and cirque expertise).
The Red Room transforms into a trippy choose-your-own-adventure dance party for "UNTITLED DANCESHOWPARTYTHING," conceived and created by Sam Pinkleton (Tony-nominated choreographer for "Natasha, Pierre & the Great Comet of 1812") and Ani Taj (founder and artistic director of The Dance Cartel). According to Taj, when thinking about their pitch, the pair asked themselves, "What's a show we'd actually want to go to?" They initially questioned if they'd have to dilute their vision but instead got the green light to go full throttle, bringing an authentic liveliness and humor that balances social commentary.
Perhaps most exciting is Virgin Voyages' commitment to diversity, which includes but doesn't cherry-pick the LGBTQ+ community. "Never Sleep Alone," co-created by Roslyn Hart and Alfredo Guenzani, features Hart's alter-ego character Dr. Alex Schiller (not a real doctor), in a participatory evening of sex and relationship talk that encourages the audience to reveal what gets them hot. The witty banter titillates without being crass, delivering a message of sex positivity regardless of orientation or gender.
Other musical acts and entertainment offerings pop up throughout each sailing with a refreshing talent roster. Pack something red for Scarlet Night, a full-ship takeover produced by Randy Weiner and Remarkable Entertainment, along with your favorite dancing shoes for a night (or several) at The Manor, the high-energy nightclub named after Branson's first Virgin music studio.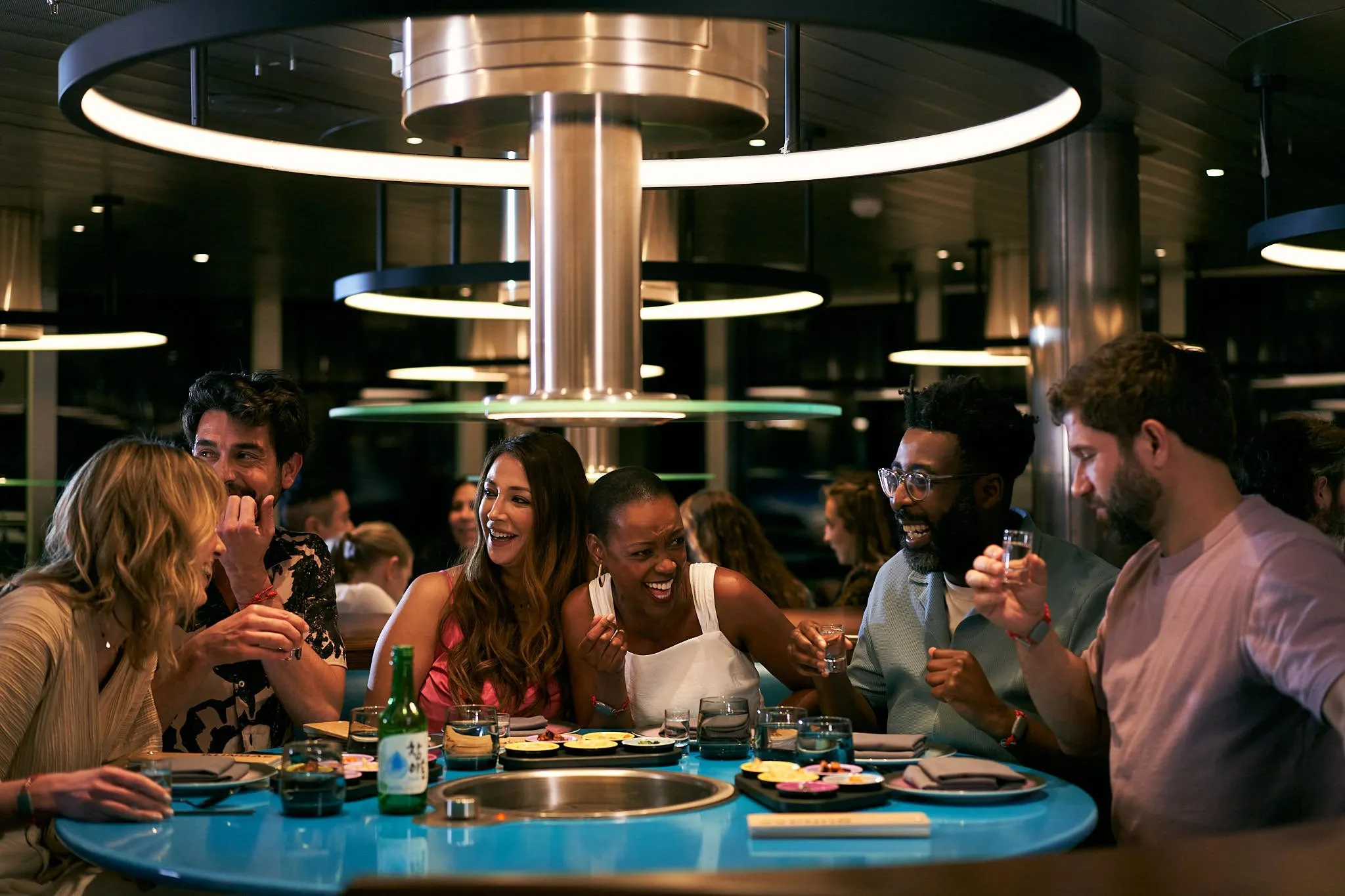 A Taste for Every Palate
Virgin Voyages has shifted the paradigm for culinary programs at sea. Epicurean-minded sailors will dine with delight at six unique restaurants plus plenty more casual outposts positioned throughout the ship. All venues are included in the booking price, with the occasional upcharge for specialty items like a grand plateau raw bar, aged Tomahawk steak or freshly shaved truffles.
The restaurants' spaces are as inviting as their menus, featuring an array of service wear and stemware unique to each venue, elevating the dining experience to the next level. While there are no set dining times, optimize your onboard dining experience by making reservations through the app in advance to ensure you can rotate through everything that Scarlet Lady has to offer.
Though difficult to pick favorites, several menus and specific dishes soar above sea level. Pink Agave offers a massive tequila and mezcal list to frame its regional Mexican dishes, including a bright and beautiful aguachile with tuna, avocado and jicama, seared shrimp with mole Amarillo and a rarely seen outside of Yúcatan conchinita pibil (achiote-marinated smoked pork with sour orange habanero pico de gallo.
Extra Virgin canvasses Italy for a selection of antipasti, salumi and formaggio and prepares homemade pasta, including a toothsome nero gemelli with mussels, shrimp and kick of chile. Molecular gastronomy and Escoffier's French tome "Le Guide Culinaire" collide at The Test Kitchen's six-course tasting menu, which delivers whimsical interpretation, complex flavor profiles, and dishes coyly named by their key ingredient ("mushroom," "egg," "beef"). Finally, for a social dining experience and purposefully wild soju drinking game, head to Gunbae, an ingenious Korean barbecue featuring flameless grills and a wide assortment of banchan (small dishes and condiments), grilled vegetables, seafood and proteins, including the option for a premium wagyu beef platter ($45).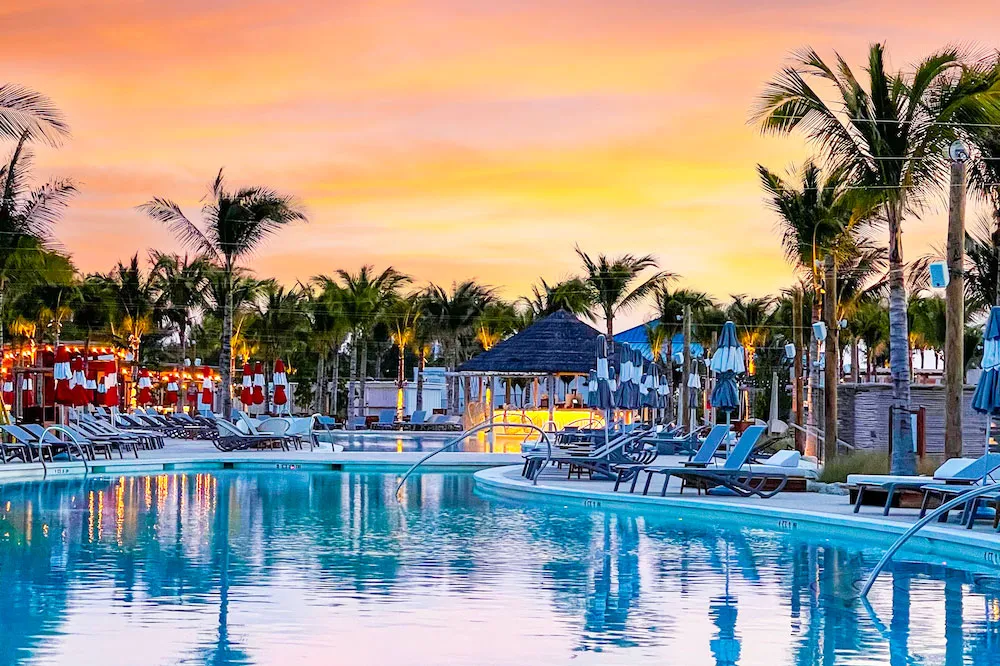 Day-Tripping
Scarlet Lady's Caribbean itineraries include 10 different ports of call, which vary depending on the booking, though each cruise spends a day at Virgin Voyages Beach Club in Bimini. A quick trolly ride brings sailors to a day of sand and sun, along with access to a pristine stretch of beach and everything you need for a day of radiant rest and relaxation. Those more adventurous can book a cultural tour, snorkeling or scuba diving – typical activities for the region.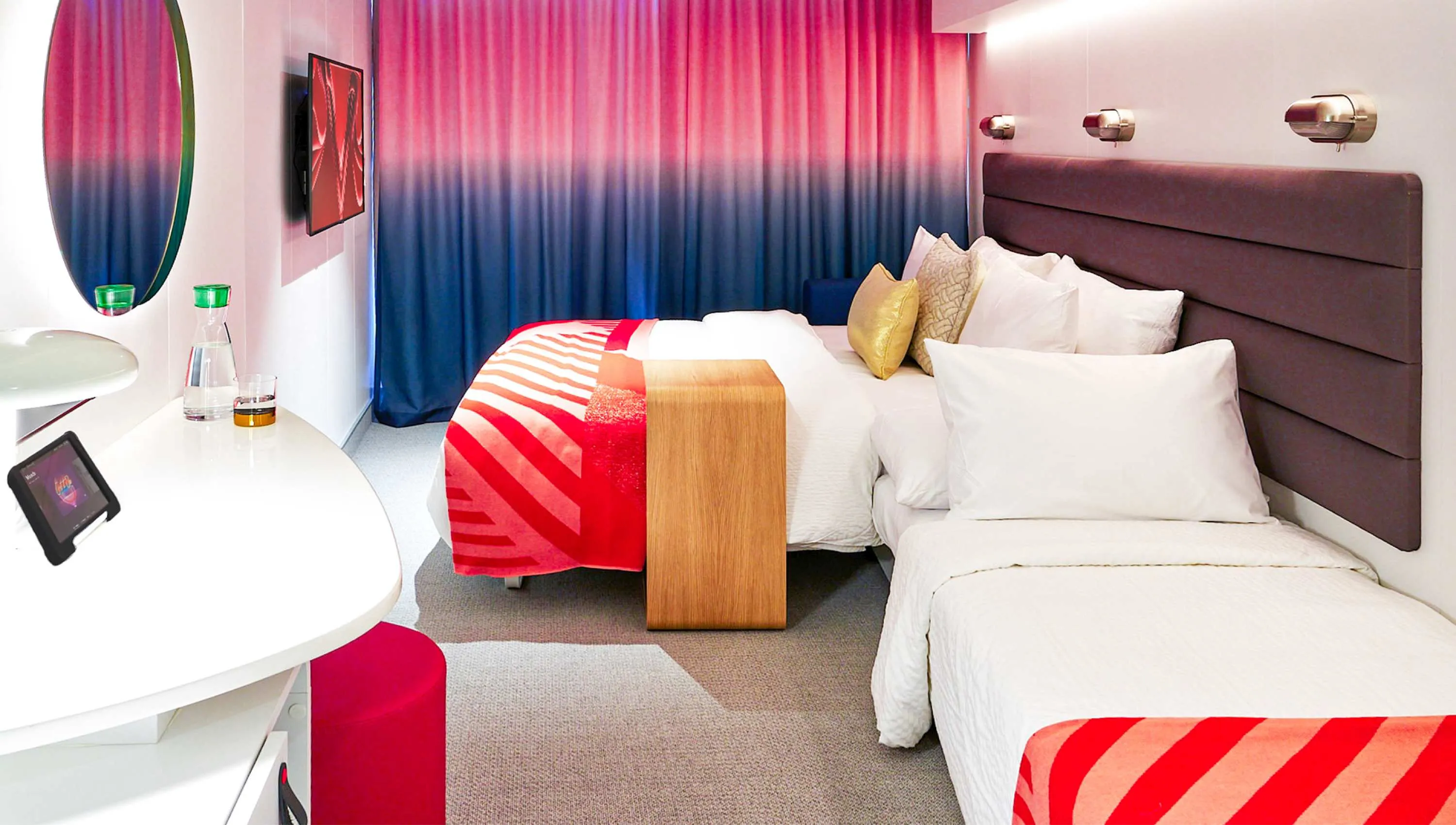 Quirks and Conundrums
Scarlet Lady's cabins were designed in collaboration with London-based design firm Pearson Lloyd, and while interesting intentions appear, the deliverables occasionally feel more like roadie than rock star. The transformational cabin space features a Seabed, which converts sleeping into a sitting area. However, the former's configuration will leave platonic sailors sleeping in an "L" shape with their heads butting up against one another or a newly formed foot fetish.
A tablet controls everything from lighting to temperature and TV, but despite Branson's love for music (there's a vinyl collection for sale onboard and DJs spinning at nearly every turn), no in-cabin music is available unless you've booked RockStar Quarters, which feature in-suite record players.
The bathroom (based on XL Sea Terrace cabins), often sized for a preschooler on a cruise ship, is galley style with separate compartments for the toilet and shower, which is spacious and features a rain shower head. Unfortunately, there's no door to the sink area and an oddly positioned full-length mirror offers an unintentional show for platonic travel mates.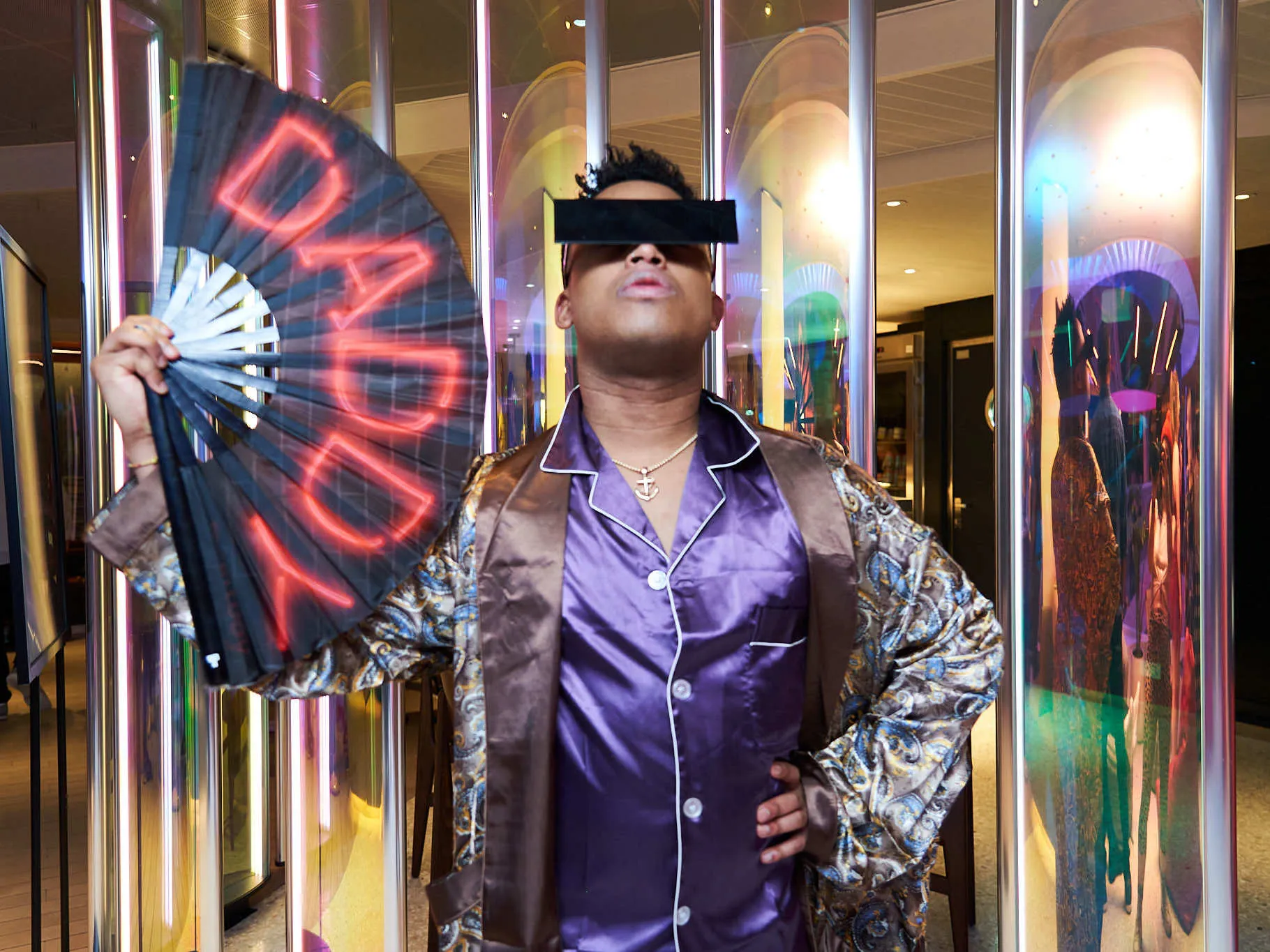 More Ways to Lose Your Virginity
Virgin Voyages' first fleet will continue to roll out through 2023. Scarlet Lady's sister vessel, Valiant Lady, sets sail in spring 2022 and will dock at trend-setting hot spots like Ibiza, Cannes and Marseille, and later throughout Greece for an immersive day in Santorini, an all-nighter in Mykonos and more. Each of the "Lady Ships" will be identical in design to Scarlet Lady, with entertainment and other details continuing to evolve as the brand further establishes its identity and sailor DNA.
For those new to cruising or looking for approachable sophistication and a relaxed vibe, Scarlet Lady delivers, and the crew's attention to detail and affable demeanor only enhance the experience. By thoughtfully considering what it means to be diverse and inclusive, Virgin Voyages has set a benchmark for the industry that extends beyond performative marketing.
On the last evening, I took a moment to look out on the horizon as the sun met the ocean. It seemed as if anything was possible. I think a bit of Branson's joie de vivre had rubbed off on me. No longer a pandemic-era travel virgin, the world felt just a bit less threatening. I breathed deep, grabbed a glass of champagne and danced the night away.
---