Gay Providence: The Latest
Many details of what happened at the Stonewall are enveloped in differing perspectives, disputes and the uncertainty of half-century-old memories.
Hundreds of thousands of people filled a main São Paulo thoroughfare for one of the world's largest LGBT pride parades — the first since the election of far-right President Jair Bolsonaro.
A ceremony has been held at the former site of Germany's Buchenwald concentration camp to remember people imprisoned there because they were thought to be gay.
Democratic presidential candidate Pete Buttigieg faced criticism Sunday from angry residents of South Bend, Indiana, at an emotional town hall meeting a week after a white police officer fatally shot a black man in the city where he is mayor.
The 2019 BET Awards featured a number of contemporary pop and rap stars who are dominating the charts, from Cardi B to Lil Nas X.
The unwritten rules that have so far prevented the Democratic presidential contest from devolving into all-out conflict are about to be tested.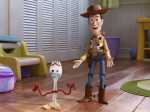 "Toy Story 4" brought the box office to life with a $118 million opening weekend after a three-week slump of underperforming sequels, but the Pixar film's below-expectations debut didn't quell continuing concerns about a rocky summer movie season.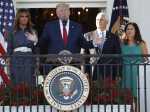 President Donald Trump says he hesitated when he was asked about backing Vice President Mike Pence if Pence runs for president in 2024 because the question caught him off-guard.
The documentary "Leaving Neverland" presented a disturbing depiction of Michael Jackson as a child molester, but the initial wave of negative publicity hasn't greatly diminished the King of Pop's image or the enduring popularity of his music.
Press secretary Sarah Sanders seems to be in an enviable position as she leaves the White House for a possible run for governor in her home state of Arkansas.
Major retailers have diversified their inventory for Pride month, selling apparel and other goods that celebrate LGBTQ culture to mark the 50th anniversary of the Stonewall uprising.
Providence, RI
"The Rocky Horror Show" is another huge triumph for Out Loud, which specializes in creating offbeat and edgy entertainments.
When the mother of 15-year-old Socrates dies, he's left alone to survive and deal with his sexuality in one of Sao Paulo's roughest ghettos in this very unforgettable film.
Lawmakers in New York state have voted to eliminate criminal penalties for public possession and use of marijuana after efforts to legalize pot stalled.
Curbing damage to Earth's protective ozone layer is widely viewed as one of the most important successes of the modern environmental era. Congratulations may have been premature: Ozone concentrations in the lower stratosphere are falling.
Your monthly car payment is not only a ticket to freedom, letting you enjoy summer road trips, but also a lifeline that gets the kids to school and you to work. But if it consumes too much of your budget, that ticket can lead to financial trouble.
Self-driving car pioneer Waymo is teaming up with automakers Renault and Nissan to make its first journey outside the U.S. with a ride-hailing service that will dispatch a fleet of robotaxis in France and Japan.
Sitting in traffic, being in the line at the DMV, and walking around with toilet paper on their shoes are some of the things people would rather do than have a bad or unflattering hairstyle, according to new research.
Elton John, a newly awarded Legion of honor pinned to his suit, joined a call Friday by French President Emmanuel Macron to fund AIDS research and treatment.
Hawaiian Airlines has grown to serve more than 10 million passengers annually, making it the largest and longest-serving carrier based in the 50th state. And Hawaiian shows no signs of slowing down — or altering its commitment to excellence.
In this column, I'll share some insights from Justin Lehmiller, an esteemed Research Fellow at The Kinsey Institute and author of the book 'Tell Me What You Want: The Science of Sexual Desire.'