Best of the Berkshires: 5 Essentials for a Weekend in Lenox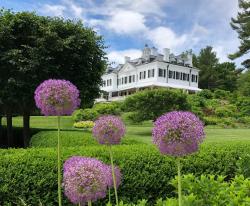 Head to the rolling hills of Berkshire County in western Massachusetts to discover modern luxury, a vibrant cultural scene, and seasonal cuisine that celebrates the local harvest. Summer is high season, so consider a mid-week getaway for more affordable rates and easier access to tickets and restaurant reservations. Don't know where to begin? EDGE has you covered with five of our favorite picks in Lenox, which only scratches the surface of what this glorious region has to offer!

Kemble Inn — Owner Scott Shortt has poured his heart and soul (along with a terrifically keen eye for style) into this gorgeous historic inn in Lenox. He borrowed $750,000 in a dramatic leap of faith, and over the next several years restored and renovated much of the Colonial Revival-style estate. The result is a Gilded Age glory that pays tribute to the region's historic past with modern sensibility (and plenty of Ralph Lauren touches!)

Each of the nine suites has a unique personality. Suite 202 boasts a wood-burning marble fireplace and mountain views; Suite 101 features a two-person steam shower and architectural details that pay homage to its original use as the mansion's gentleman's drawing room; and Suite 203 flourishes in 1920s glamour with white and gold accents.

Enjoy in-room spa services throughout the summer (a dedicated space is available from late October through mid-May) then head to the back veranda for an afternoon cocktail or the cozy first-floor lounge for a late-night digestive. The Green Room, the property's latest addition, is a bespoke craft cocktail lounge tucked away for those in the know. Enjoy bubbles, wine, or spirited creations such as the cherry whiskey sour or build-your-own gin and tonic.

And for those looking for a destination wedding, consider a Kemble Inn takeover and create your noteworthy nuptials.



Nudel — Walk out Kemble Inn's door and within a few minutes you'll find yourself in Lenox, one of the Berkshires' charming enclaves. Restaurateur-chef and Berkshires native Bjorn Somlo operates the intimate restaurant with a small team of chefs and front-of-house staff, self-described as "a talented motley crew of raw enthusiasm."

The ingenuity appears on the plate in an ever-changing menu, which keeps things fresh for regulars and will surprise first-time visitors. Recent highlights include Hepworth sugar snap peas with green apricots and cottage cheese; crispy Maitake mushrooms with Hakurei turnips, ginger and soy; and an earthy veal stew with melted leeks.



Annie Selke — One of the most celebrated creators of home furnishings and textiles, Annie Selke can turn any space into an extraordinary haven you'll never want to leave. Her Lenox retail location features some of her most celebrated designs, and expert staff to help curate your picks. Whether you're looking for an accent piece, rug, wallpaper or bedding, all can be found (or ordered online) in Lenox.

Selke's summer 2019 collection leans toward neutral ivories and soft blues, with standout pieces such as the Asian-inspired Eden floral wall panel and Meesha Ikat ivory double nightstand.



Tanglewood Music Center — Bring a pair of comfortable shoes and enjoy the two-mile walk to Tanglewood Music Center, and outdoor performing arts venue and summer home to the Boston Symphony Orchestra. Summer highlights include Boston Pops, the Music of John Williams (July 7), Train and Goo Goo Dolls (August 5), Ben Harper (August 31), and Reba McEntire (September 1).



The Mount, Edith Wharton's Home — The first woman to win the Pulitzer Prize for Fiction, Wharton celebrated life can be explored among the 113-acre Lenox estate. It's here where she wrote "The House of Mirth" and "Ethan Frome," though she marveled at her aptitude for design. "I am amazed at the success of my efforts," wrote Wharton. "Decidedly, I'm a better landscape gardener than novelist, and this place, every line of which is my own work, far surpasses The House of Mirth..." Architectural Digest recently named The Mount as one of America's Best Historic Homes.

Guided tours offer expert insights into Wharton's past, along with highlights from the house and gardens.


Matthew Wexler is EDGE's National Senior Editor of Travel, Lifestyle, Health & Branded Content. More of his writing can be found at
www.wexlerwrites.com
. Follow him on
Twitter
and
Instagram
at @wexlerwrites.

This story is part of our special report titled "Summer 2019." Want to read more? Here's the full list.
Comments on Facebook