Despite its religious underpinnings, and in accordance with Muslim faith, festival organizers have made one thing clear: Non-Muslims are welcome.
New Orleans chef and civil rights icon Leah Chase died Saturday at the age of 96.
Oregon will ban restaurants from automatically offering single-use plastic straws under a measure passed by lawmakers, making it the second state to enact restrictions on plastic straws.
Anyone for steak and onion Kolsch? Or a macaroni and cheese pale ale?
A Salt Lake City ax-throwing business has been granted a license to sell beer after adding pool and billiard tables to the venue.
Jonah Reider became an object of media fascination when he opened a sophisticated supper club in his Columbia University dorm that briefly became one of New York City's most coveted reservations.
Red or white? New research revealed your choice of wine can say a lot about your personality.
More than half of Americans (53 percent) consider themselves to be foodies, according to new research.
A Wisconsin judge on Friday ordered Anheuser-Busch to stop suggesting in advertising that MillerCoors' light beers contain corn syrup, wading into a fight between two beer giants that are losing market share to small independent brewers.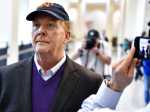 Celebrity chef Mario Batali, whose career crumbled amid several sexual misconduct accusations, pleaded not guilty Friday to a charge that he forcibly kissed and groped a woman at a Boston restaurant in 2017.