October is here, and that means local breweries are pouring seasonal favorites. Four recently opened venues celebrate the best of the craft brewery scene.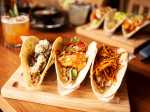 Yes, there is a day for everything, but when it comes to tacos, we don't mind.
While trying to lose weight, Becky Beach found assistance in an unlikely place: thousands of online videos featuring people binging on massive amounts of ramen, burgers, chicken wings and seafood boils brimming with crab and lobster.
It's a real ice cream flavor: guinea pig.
Bear Brew, a newly opened specialty coffee shop in Beijing, is special not just in being a dedicated coffee shop (which is still a fledgling industry in China), but also for it's LGBTQ inclusive founding attitude.
Have you ever had the perfect taco? New research has identified the most popular combination for taco lovers nationwide.
Celadon Books announced Wednesday that million-selling chef Ina Garten is working on a memoir, not yet titled. It's tentatively scheduled for 2023.
Drag queen Rosé of Stephanie's Child fame launches her own Instagram TV series with a focus on her favorite beverage: wine.
The Educated Barfly says that Jägermeister can be appreciated as far more than a late-night shot. Here are six cocktail recipes that elevate a spirit with a bad rap.
October 4 is National Vodka Day. (Yes, it's a thing, along with National Taco Day — where is the poor margarita, though?) To help celebrate, Prince Lewis mixologist Nathaniel Lewis offers four libations to shake up your revelry.