Watch: KFC Introduces the 'Chickendales' in Mother's Day Vid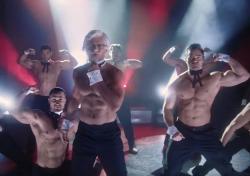 Not long after KFC introduced its new Colonel Sanders — a sexy C.G.I. social media influencer — the fast food company is rolling out its "Chickendales" dancers, just in time for Mother's Day.

The new sexy dance troupe, which features a number of shirtless men including one who looks like Sanders, comes with a website, Chickendales.com. There you can make a special Mother's Day video for your mom and based on the information you provide, you get a custom video.

In the ad, a hunky Sanders says, "Oh, howdy mom" before ripping off his shirt and exposing his ripped bod.

"I hear you're the best mom in the world," he adds before the rest of the Chickendale dancers appear and the group performs their sensual routine.

Watch the strange clip below.
Comments on Facebook