1 thru 10 of 3834 Stories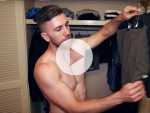 YouTube fitness expert Tyson Edwards offers his favorite picks for a stylish workout.
Little seemed to make sense in Thom Browne's gender-defying display but the sheer eccentricity of the proceedings somehow made it work. (Photos: AP/Francois Mori)
Dior drew inspiration from the top of the big top for a playful couture show held Monday in Paris, where models inside a circus-style tent walked through a human arch made of moving acrobats.
Thom Browne provided the biggest spectacle on a relatively quiet day at Paris Fashion Week as some fashion houses decided to switch presentation dates or showing times to avoid Saturday's yellow vest protesters.
Here are some highlights of Sunday's installment of Paris Fashion Week.
Take a look at the latest menswear fashions from Paris.
During three days of Milan Fashion Week previews focused on menswear, collections featured shiny and sheer textiles, sequined garments, lace and scoop necks.
Louis Vuitton's designer Virgil Abloh transported celebrity guests at Paris Fashion Week to the graffitied streets of New York in a dramatic menswear ode to Michael Jackson.
Fashion influencer Brian Sacawa from He Spoke Style offers his take on the latest menswear showings at London Fashion Week.
Designer Clare Waight Keller unveiled her first menswear collection for storied house Givenchy at Paris menswear week.
1 thru 10 of 3834 Stories