Top Story
Style guru Alex Costa returns with some of his favorite looks for autumn.
The tariffs the Trump administration is about to impose on wine, liquor and cheese from Europe couldn't come at a worse time for small retailers.
"Binging with Babish: 100 Recipes Recreated from Your Favorite Movies and TV Shows" offers edible inspiration from some of our favorite fictional characters.
This classic spicy Italian pasta dish can be on your table in only 20 minutes. It's one of the easiest pasta recipes but at the same time surprisingly flavorful and perfect in its simplicity, like almost every Mediterranean dish.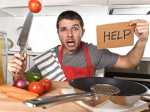 From leaving the oven on overnight to forgetting a crucial ingredient in a meal or using salt instead of sugar, more than six in 10 Americans have experienced a cooking catastrophe.
With each serving of French press coffee poured delicately into a cup with steamed milk, 21-year-old Afghan refugee Fatemeh Jafari lives out a dream in her basement coffee shop in Tehran that is out of reach for millions like her in Iran.