Top Story
NYC Pride presented VIP Rooftop World Pride at The Park, with two levels, a beautiful rooftop, hot dancers, and great music from DJ's Grind, Toy Armada, Ben Baker and Kitty ...
It was a beautiful sunny day as the crowds came out to enjoy the San Diego Pride Parade and to support the LGBTQ community. People cheered as the participants marched through Hillcrest into Balboa Park for the Pride Celebration.
San Francisco Kicked off Pride in Hillcrest, with the Spirit of Stone Wall Rally. Community leaders came out to give motivational speeches, followed by a moving performance by the San Diego Gay Youth Marching Band, while a huge rainbow flag was raised!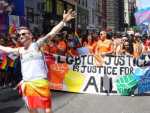 2019 has been a great year for Pride festivals and parades nationwide, many of which commemorated the 50th anniversary of the Stonewall Uprising. Check out our roundup of EDGE coverage and photo albums from this year's events so far!
London's biggest Pride parade ever happened with an estimated 1.5 million people looking on as more than 30,000 people from 600 groups marched through the city's West End, marking the 50th anniversary of the Stonewall Riots.
LGBTQ community members in Columbia Heights, Minnesota have organized the city's first Gay Pride parade, but the Mayor has reportedly declined to sign such a proclamation due to the group's request not following official guidelines.
Gay Pride Around the World