Temptation Sundays returns for its tenth season. EDGE chatted with Tim Evans, Luxor's Director of Marketing, who conceived of what has become Las Vegas's sizzling summer LGBTQ pool party.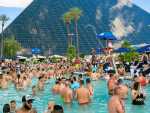 Las Vegas is rolling out the rainbow carpet this year with signature events, including the tenth anniversary of Temptation Sundays at Luxor, as well as Pride, Dining Out For Life, and Bigger Vegas.
Providence, RI
Bella Luna & The Milky Way hosts their seasonal craft beer tasting event on May 1st from 7-9pm.
Kristen Porter Presents Dyke Night® hosts LUSH: the official Womxn Pride Party, the longest running most award-winning womxn pride party in the city. LUSH takes place on June 8, 9 pm to 2 am at ICON Nightclub, 100 Warrenton St., Boston, MA.
An all-male underwater burlesque show? Your dreams have come true, thanks to MeduSirena's Aquanauts, who arrive this February at B Ocean Resort.
The Illinois Office of Tourism debuted a new larger-than-life art installation celebrating its "Amazing for All" LGBTQ and diversity campaign during Northalsted Market Days in Chicago's Boystown neighborhood.
It's time to start fluffing your wigs and polishing your marching (or runway) boots -- 2018 New York City Pride is almost here!
The Pavilion at Fire Island Pines has announced its summer DJ lineup. The summer vacation mecca will host some of the country's top DJs to let the music play from Memorial Day, to Labor Day.
Providence, RI
AIDS Action Committee announces that the 23rd annual Taste of the South End will take place Tuesday, March 20 at the Cyclorama of the Boston Arts Center.
Providence, RI
New year, new brunch. Tiffani Faison's Tiger Mama rings in 2018 with a take on brunch that can't be found anywhere else in the city.