1 thru 10 of 6572 Stories
The unwritten rules that have so far prevented the Democratic presidential contest from devolving into all-out conflict are about to be tested.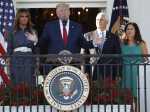 President Donald Trump says he hesitated when he was asked about backing Vice President Mike Pence if Pence runs for president in 2024 because the question caught him off-guard.
Press secretary Sarah Sanders seems to be in an enviable position as she leaves the White House for a possible run for governor in her home state of Arkansas.
On stage before a throng of party faithful in a key early primary state, Joe Biden's leading rivals for the 2020 Democratic presidential nomination sought Saturday to undercut the former vice president's argument that he's the ideal Democrat to oust Trump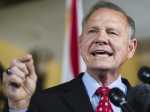 In a state that has long been reliably Republican, Roy Moore faces an uphill battle in winning over skeptical voters to take back the Alabama Senate seat he lost two years ago amid allegations of sexual misconduct involving teenage girls.
Interviews with a dozen economists and tax experts from across the political spectrum point to divisions about how much money a wealth tax would raise.
It's a compelling promise. After all, who could be against curing the nation's second-leading cause of death? If only it were that simple. Here are three reasons "let's cure cancer" is very easy for politicians to say but very hard to accomplish.
Alabama Republican Roy Moore announced Thursday that he is running for U.S. Senate again in 2020 after failing to win the seat two years ago amid sexual misconduct accusations.
Sen. Elizabeth Warren (D-Mass.) and 2020 presidential hopeful signed Taylor Swift's Change.org petition in support of the Equality Act.
President Donald Trump boasted with abandon in launching his 2020 re-election campaign, overreached in excoriating his critics and promised progress on his border wall and health care that is improbable at best.
1 thru 10 of 6572 Stories