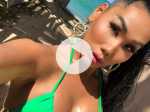 "RuPaul's Drag Race" star Gia Gunn is calling out YouTuber Trisha Paytas for a viral video posted this week in which Paytas comes out as transgender.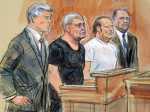 Businessmen with ties to Rudy Giuliani lobbied a U.S. congressman in 2018 for help ousting the American ambassador to Ukraine around the same time they committed to raising money for the lawmaker.
The Food and Drug Administration approved the use of Descovy as an HIV prevention drug on Thursday. Descovy contains a newer formulation of the drug in Truvada, which has been used to treat those infected with HIV since 2004.
Reese Witherspoon and Kristin Bell, who post posted to their social media accounts their support for Ellen DeGenerous' friendship with Pres. Bush, have drawn social media criticism from fans.
A man driving Kevin Hart's vintage muscle car accelerated recklessly on a Southern California highway, causing the accident that left the comedian, driver and another passenger seriously injured, investigators said in a report released Thursday.
Critics of President Donald Trump who wonder about the tenacity of his supporters need only to spend three hours with Fox News Channel's headliners to get an idea why.
Two years after Matt Lauer was abruptly fired by NBC News for sexual misconduct, more questions are emerging about the former "Today" show host's behavior and whether bosses looked the other way at problems involving one of the network's biggest stars.
A woman who worked at NBC News claimed that former anchor Matt Lauer raped her at a hotel while on assignment for the Sochi Olympics, an encounter the former "Today" show host claimed was consensual.
U.S. infections from three sexually transmitted diseases have risen for the fifth consecutive year.
A seemingly divided Supreme Court struggled Tuesday over whether a landmark civil rights law protects LGBT people from discrimination in employment.