Gay Providence: The Latest
If you've ever said "it's just a preference" to a boy on Grindr, this play is for you.
Paul Thomas Anderson's "Licorice Pizza" has been named the best film of the year by the National Board of Review.
On the iconic 1980s soap "Dynasty," actor Gordon Thompson played the villain you loved to hate, but lusted after. Now the actor looks back at playing the character as he mounts a reunion show with 2 co-stars.
Michael Patrick King, writer and director of "Sex and the City" as a TV series and movie franchise and now a writer on "And Just Like That..." says the new show was never planned to include Samantha Jones.
Anderson Cooper will be stepping in for Chris Cuomo during the latter's suspension from CNN.
The delayed, highly anticipated remake of "West Side Story," directed by Steven Spielberg and adapted by Tony Kushner, hits screens next week. And early reviews are raving.
It's been a long eight years since "The Real Housewives of Miami" graced TV screens, but now the reality show is back — and better than ever with a lesbian cast member.
Holiday baking shows, an anti-vax soap actor's fired, a reality show hunk goes gay, and plane crash survivors share a lurid secret; all this and more in our TV column.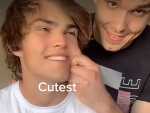 Check out some of the best TikToks from LGBTQ+ creators this week.
In the original "West Side Story," the character of Anybodys, the tomboy who wants to be part of the Jets, had no sexual identity. Not so in the new Steven Spielberg/Tony Kushner adaptation.
On the eve of World AIDS day, a ceremony was held at the National AIDS memorial in San Francisco. Guest speakers talked about their experience during the HIV/AIDS pandemic, the progress that has been made, and the hope of reaching zero new cases.
Providence, RI
A tight, well-orchestrated affair, "It's a Wonderful Life" brings a classic to vibrant life in its highly theatrical context.

Robin de Jesús discusses his new more mature role in the film "tick, tick... Boom," plus his earlier work onstage and film in "Rent," "The Boys in the Band," and "In the Heights."
Federal health officials are requiring airlines to gather contact-tracing information on passengers heading to the U.S. who have been in southern Africa in the previous two weeks.
Vaccinating kids against COVID-19 also means reducing silent spread, since most have no or mild symptoms.

As Americans shop for the holidays, they will likely see a swarm of offers to get their gifts now but pay for them later in fixed monthly installments.
Congress has created a new requirement for automakers: Find a high-tech way to keep drunken people from driving cars.
Even Christmas trees aren't immune to the pandemic-induced shortages and inflation plaguing the economy.
Scientists caution that it's still too early to say whether omicron will prove as dangerous as delta. For now, here's what we know, and don't know, about the omicron variant.
Japan has retracted a ban on new incoming international flight bookings to defend against the new variant of the coronavirus a day after the policy was announced.

A very pregnant Ladyfag presented Battle Hymn at Rumi Event Space with a special birthday celebration for Amanda Lepore, with DJ's Eli Escobar and The Carry Nation.