Gay Providence: The Latest
Anthony Mackie talks with Jimmy Fallon about his love for "The Golden Girls" and Betty White.
HBO's critically acclaimed comedy series "High Maintenance" won't be returning to the network.
A player on Switzerland's 3x3 basketball team publicly came out as gay on Friday.
"Parasite" director Bong Joon Ho has been selected as jury president of the 78th Venice International Film Festival, organizers said Friday.
President Donald Trump will leave Washington next Wednesday morning, just before President-elect Joe Biden's inauguration, to begin his post-presidential life in Florida.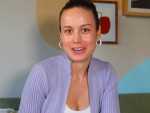 "Captain Marvel" star Brie Larson ignited a Twitter frenzy when she posted a YouTube video of herself taking online quizzes... and answering one question in a way that left fans asking if she had just come out.
Jacob Chansley (a.k.a. "QAnon Shaman") was said to have left a threatening note to Mike Pence during the Capitol insurrection last week. He is also seeking a presidential pardon.
The pro-Trump mob that stormed the U.S. Capitol last week aimed to "capture and assassinate elected officials," federal prosecutors said in court documents.
Actor and activist Nyle DiMarco is already having a busy 2021.
Out British comedian and a close friend of Adele Alan Carr said the singer's album will be out next month.
A scholarly paper based on surveys of gay and bisexual men finds that while PrEP use has increased, only a fraction of men who have sex with men have taken it up — and a third of those abandon PrEP over time.
Luke Evans wasted no time to show the world he's single again with a sexy Instagram post Thursday.
A three-hankie ad from Doritos tells the true story of a single dad who gets advice online about how to talk to his gay son after realizing that the college friend the son has invited home is more than just a buddy.
A hacker was able to take control over the internet-connected chastity cages in an attempted extortion of several victims, security researchers found.
After the train wreck that was 2020, you may well question whether it's worth trying to plan anything. But knocking off a few financial tasks early in the year can better prepare you for whatever 2021 has in store.
Early signs suggest an upcoming year of increasing market share for electric cars as EU regulations drive their adoption.
The grooming guru recently announced a new haircare brand in collaboration with beauty brand Biossance's parent company, Amyris, to develop his own collection.

From marriage and family therapists to celebrities like Tom Ford and Alan Cumming, everybody has an opinion about monogamy. A new study highlights the variables that make (or break) a successful relationship.
Britain's government has banned travel from South America and Portugal to ensure a new variant of COVID-19 found in Brazil doesn't derail the country's vaccination program, although there are no signs the variant has reached the U.K.
The term "sexual fluidity" has come under scrutiny as researchers further explore the nuances our sexual expression, attraction and behavior.