Gay Providence: The Latest
Politics begin at the local level, where community organizers and volunteers are part of the foundation from which future state and national candidates sprout. San Diego provides a case study about the impact of LGBTQ politicians and voters.
Federal health officials Wednesday issued insurance coverage rules designed to deliver on the promise that every American will have access to free COVID-19 vaccines when they are approved.
Taiwan hit 200 days without any domestically transmitted cases of COVID-19 on Thursday, highlighting the island's continued success at keeping the virus under control even as cases surge in other parts of the world.
Trying to pull back the veil on health care costs to encourage competition, the Trump administration on Thursday finalized a requirement for insurers to tell consumers up front the actual prices for common tests and procedures.
Adult film star Ron Jeremy pleaded not guilty Wednesday to new charges of rape and sexual assault involving six victims, including a teenage girl, prosecutors said.
Khloe Kardashian says she had tested positive for the coronavirus.
The five-year journey between albums for country singer Cam was an evolution in coming to grips with hard truths about a music industry that had left her a bit bruised but not broken.
The suburbs wouldn't be the suburbs anymore, the economy would sink into its worst depression ever and police departments would cease to exist.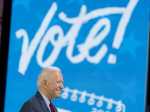 President Donald Trump and Democratic rival Joe Biden are set to chase votes in Florida, a state all but essential to the Republican's pathway to another term as both nominees turn their focus to encouraging voters to turn out on Election Day.
With newest Supreme Court Justice Amy Coney Barrett having been confirmed in record time, same-sex couples are in a rush of their own: To get married while they still can
Despite cautioning the Catholic faithful in attendance about the risks of COVID-19, Pope Francis and his aides did not wear masks at Wednesday's general audience.
Providence, RI
Broadway star Laura Benanti lends her glorious soprano voice to the Boston Gay Men's Chorus for Episode 3 of the "Celebrity Spotlight" series.
Tis reboot/sequel to the '90s cult classic fails to cast a spell.
How comfortable would you be taking a road trip to a destination with no LGBTQ anti-discrimination laws? It's a conundrum that many LGBTQ travelers face as they choose drivable destinations over long-haul flights.
For Delicious Experiences, the possibilities for cooking, mixing, eating, and drinking entirely online are only just beginning.
If the Supreme Court throws out the Affordable Care Act, your finances and your future could pay the price.
Volkswagen is recalling more than 218,000 Jetta sedans in the U.S. to fix a fuel leak problem that can cause fires. The recall covers certain cars from the 2016 through 2018 model years.
Has Lady Gaga's "Chromatica" jockstrap been replaced? According to Twitter, the latest undergarment to own is Nike's simple black jockstrap.
A recent survey proves that many Americans still have a problem discussing issues of sexuality and intimacy.
A solo trip to the Hudson Valley offers one writer the opportunity to ponder his queerness among cemeteries, towering sculptures and a stroll down Main Street.
Should the government pay bars, many restaurants and event venues to close for the winter? Some experts say yes.