With only a five-minute commitment, there's no excuse to avoid your ab workout today, courtesy of A Gentlemen's Guide.
Fitness expert Greg O'Gallagher guides us through a detailed at-home workout with a few historical bodybuilding anecdotes for good measure.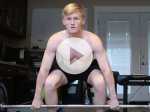 Cole Baker tackled 300 reps of six different exercises. Can you handle it, too?
There are many legitimate concerns about how gyms and fitness studios can safely reopen without furthering the spread. But infectious disease experts say risk can be greatly mitigated.
Rowan Row's latest workout uses common items found at home to add weight or resistance to common exercises. No excuses!
Lacrosse player Alex Aust takes us through a 15-minute core circuit workout that you can do from anywhere — no equipment needed.
Mobility is an important component of overall health and fitness, but it also gives you the opportunity to help you recover from other workouts.
Sydney Cummings delivers a high-impact workout that can burn up to 500 calories in 40 minutes. Buckle in, it's going to be a wild ride!
YouTube fitness expert Chloe Ting offers an easy mid-week workout - no equipment needed.
We've jumped the pond to workout with YouTube fitness influencer Moses.ldn, who's put together the best no-equipment workout.