EDGE spoke to some of the nation's most notable leaders, grassroots organizations and everyday people simply trying to live each day as their authentic selves. Here are the biggest LGBTQ stories that shaped our world in 2020.
The cultural invisibility of lesbians and the struggle to keep lesbian spaces alive tend to reinforce the image of queer women as financially incapacitated or, at best, inconspicuous. But lesbians do spend money, don't they?
One former Black porn star says looking back after seven-plus years outside the industry, it's clear it was "a whole toxic environment of white supremacy and racism, completely all the time." Has anything changed?
"When we're voting, it's easy to think it's just for a candidate or party we align with, but it's so much more than that," says Drag Out the Vote's Dylan Austin. "Everything is interconnected." EDGE takes a comprehensive look at election 2020.
If younger LGBTQ Americans transform their passions for issues like climate change, gun control, and racial and gender equality from social media likes into actual votes, voter-turnout records could be smashed in November.
Politics begin at the local level, where community organizers and volunteers are part of the foundation from which future state and national candidates sprout. San Diego provides a case study about the impact of LGBTQ politicians and voters.
"We have a community whose members are making a voting plan," says one expert. "LGBTQ and trans women are more likely to vote by mail than straight women, and more LGBTQ women plan to vote overall."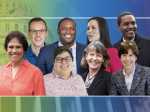 "Now that it's October, people are even more attentive, and LGBTQ voters, in particular, should find motivation to vote in their own best interests," says Sean Meloy, senior political director at the LGBTQ Victory Fund.
LGBTQ History Month is having a much broader impact in Illinois this year, thanks to a new law that mandates the teaching of LGBTQ heritage in public schools across the state.
A new national survey from The Trevor Project reveals alarming statistics regarding mental health and suicide rates of LGBTQ youth. Does it get better? It depends on who you ask.