Gamm's 'Assassins' Serves Up History's Dark Side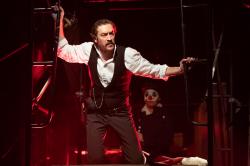 If you ever wondered what was going through the minds of some of history's most notorious criminals, then the Gamm Theatre's new production of the Stephen Sondheim musical "Assassins" will enlighten you.
John Wilkes Booth. Lee Harvey Oswald. John Hinckley. Lynnette "Squeaky" Frome. They were not your average killers either, they were presidential assassins. Some of them were successful, others were not.
There is no conventional story, but rather a series of dramatic episodes interspersed with songs.
Director Tony Estrella ("True West") has cast some of Rhode Island's most talented musical theater veterans to play this collection of societal misfits.
Alexander Platt plays Booth, who explains to the audience his murder of Abraham Lincoln was an act of patriotism — "The Ballad of Booth." Platt starred in Wilbury's "Futurity" and possesses enormous vocal prowess.
We also see lesser known figures, such as Charles Guiteau, an American writer and lawyer who assassinated President James Garfield; Giuseppe Zangara, the assassin of Anton Cermak, the Mayor of Chicago.
Tom Gleadow ("Waiting For Godot") is absolutely brilliant as the self-pitying loner Sam Byck, who hoped to kill President Richard Nixon by crashing a plane into the White House.
Bick taps into a widespread disenchantment with the broken promises of our elected officials in a monologue when he expresses his sense of betrayal. He hoped Nixon would be looking out for him and discovered that wasn't the case at all. How many of us can identify with that type of anger and disappointment?
Newcomer Chris Stahl is riveting as the pathetic and lovelorn Hinckley, whose infatuation with actress Jodie Foster prompted him to try to assassinate President Ronald Reagan ("Unworthy of Your Love").
Casey Seymour Kim ("The Night Watch") gives an amusing performance as the brain-addled Sara Jane Moore, who attempted to shoot President Gerald Ford.
Moore forms a friendship with Lynette "Squeaky" Fromme (Amanda Ruggiero), one of Charles Manson's drugged-out followers. Fromme also took some shots at Ford, but missed.
Nile Scott Hawver is also dynamic as the Balladeer and Oswald, who is goaded into assassinating Kennedy by his fellow shooters.
One of the show's best songs is "Everybody's Got the Right", when the group of assassins express their right to be happy by killing their enemies.
Sondheim and John Weidman, who wrote the book, don't romanticize these disturbed individuals and don't attempt to apologize for their actions either.
Michael McGarty's multi-layered set design and David Roy's clever lighting create a carnival-like atmosphere which captures the fantasies of these violent people.
With all the negativity in the world, you leave the theater wondering how many others are lingering in the shadows somewhere, waiting for their chance to change the world by pulling a trigger.
It's a chilling message for a musical, but "Assassins" manages to hit the target.
"Assassins" runs through March 29. Gamm Theatre. 1245 Jefferson Blvd, Warwick, RI. For tickets, visit https://www.gammtheatre.org.
Joe Siegel has written for a number of other GLBT publications, including In newsweekly and Options.
Comments on Facebook