Come From Away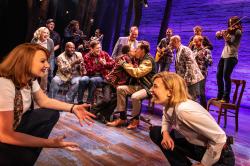 "Come From Away" features a story many won't know, yet the circumstances preceding it will be very well known. Following the September 11th, 2001 terrorist attacks many planes couldn't land in the United States for several days, and those planes were rerouted to different locations. This Tony-winning musical distills the story of 7000 people from around the globe landing in Newfoundland, Canada. The people, and their world would never be the same.

Canadian playwrights Irene Sankoff and David Hein had the impossible task of taking the stories of several thousand passengers and residents and making a musical out of their experiences. The result is an amalgam of situations brought forth by twelve actors, twelve chairs and a bare bones set, highlighted by tree trunks. Workshopped as early as 2012 in Canada, it was just a matter of time when American theatres got their collective hands on this work. From San Diego to Seattle and eventually to Broadway in 2017. Landing in Providence for one week, "Far From Away" is a high-energy, sentimental musical about the good in humans in the wake of tragedy.

A town of 9000, Gander took on almost the entire population of their own home and gave them shelter, food, clothing and comforts. And comforts were needed, whether it was a cell phone to reach loved ones, or just a TV to watch the news unfold. This production has some of the most versatile actors this reviewer has ever seen; each of them play several roles and rely on a quick change of hat, coat or accent. If it sounds daunting, it must be, but in a show of only 100 minutes and no intermission, the arc happens right in front of us. It's a "feel good" show of different kind, relying more on characterizations than flashy set pieces.

It works, thanks in no small part to the talented cast and crew. Standouts for this show are Marika Aubree as the female pilot, Danielle Thomas as a mom wondering where her son is, Adam Halpin and Nick Duckart as a couple weathering this storm together, and Chamblee Ferguson and Christine Toy Johnson as two strangers finding companionship. It doesn't settle into melodrama or even really dramatic situations for very long, just perhaps long enough to show us what each must have faced, yet doesn't linger on tragedy. This is perhaps where younger audiences may bristle; especially those unfamiliar with the 9/11 attacks, but it's a show for adults that may not know what happened following them.

The production gives new meaning to "inspiring," and the technical aspects are a sight to see. You'll be left feeling that in a world of evil and horrific news, there just might be something good in all humans.

"Come From Away" is running through December 8th at the Providence Performing Arts Center (PPAC) 220 Weybosset Street, Providence, Rhode Island 02903. For information or tickets call 401-421-2787 or visit www.ppacri.org.
Comments on Facebook