A Riveting and Vibrant 'JQA' at the GAMM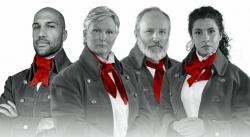 A New England premiere about an early political figure in American history arrives at a time when the government is on pretty much everyone's minds. Helen Hayes Award-winning playwright Aaron Posner ("Stupid F**cking Bird") gives us "JQA" (short for John Quincy Adams), the one-term former president of the United States. In a series of imagined encounters with other powerful figures at different points in his life, Poner illustrates Adams' integrity, stubbornness and arrogance in his one-act play.

Played by no less than four different actors at various points in Adams' life, the play is an actor's playground. Gamm regulars Normand Beauregard and Helena Tafuri welcome two newcomers to the production, Candice Brown and Jonathan Higginbotham. All four have the chops to make this work; plus Posner's narrative, given the current political climate, leaves much to ponder long after the curtain falls. As the story unfolds, we're treated to some fanciful musings about this President's life, family and views on the national government.

From meetings with Abraham Lincoln, Andrew Jackson to George Washington himself, there's a lot about John that most Americans, save for historians probably don't know. He married an Englishwoman, had three children, two of which tragically died in early adulthood. JQA focuses on not only on John's professional life but on his personal one, as well, giving some pathos to his character. But Posner paints him as a man who struggled with his identity over the years, yet John served in our government for decades.

When he's talking to his colleagues, John is a man of certain convictions, when he's talking to his wife, he seems reserved; loving but focused more perhaps on his career than family matters. All of these performers stand out, but Beauregard's Henry Clay is rather funny, and Higginbotham's Andrew Jackson is a performance well worth watching. Brown fleshes out the elder Adams in a powerful way, and Tafuri does her best Abraham Lincoln. The sparse stage setting is just thing to let our performers blossom, coats arrive via hangers let down from the rafters. In a character study as powerful as this, a flashy setting in unnecessary, but noted is a blast of red, white and blue lighting at the end is a nice touch.

Director Tony Estrella utilizes this well-chosen cast in a riveting, thought-provoking and vibrant show. "JQA" will make you question why some of these issues are still being debated to this day, perhaps we haven't traveled so far from the early days of American government? Go to the Gamm and see for yourself.

"JQA" is running through November 17th at The Gamm Theatre, 1245 Jefferson Boulevard, Warwick, RI 02886. For information or tickets, call 401-723-4266 or visit www.gammtheatre.org.
Comments on Facebook