Visiting Mr. Green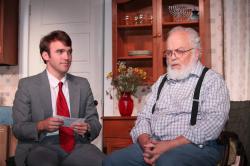 Arctic Playhouse's "Visiting Mr. Green" is a sparkling comedy-drama about the unlikely friendship between two men.
The play begins when Ross Gardiner (Jeff Blanchette) shows up at the New York apartment of elderly Mr. Green (Terry Simpson) and offers to buy him groceries.
Ross is a genial, good-natured man who works for American Express, nonetheless, he has charged with reckless driving and is paying his debt to society by taking care of Mr. Green, who he almost hit with his car.
Mr. Green doesn't want Ross's help and orders him out but Ross insists on staying. Green is a Jewish widower who has shut out the world. There are ungainly piles of phone books, mail, and brown paper bags in the apartment. Ross is horrified to see that the refrigerator and kitchen cabinets are empty and the phone isn't connected.
Eventually the two men share personal information with each other. Ross reveals he is Jewish too — and when Green asks why the young man isn't dating a woman, Ross says he isn't particularly interested in women. He's interested in men. This shocks Mr. Green.
Green reveals he has a daughter who he hasn't been in contact with for many years. He basically disowned the girl when she married a "goy" (Yiddish term for non-Jew). Ross pressures Green to heal the relationship with his daughter.
Director Sandy Cerel, working from a script by playwright Jeff Baron, neatly balances the humor and drama in the story.
Blanchette ("The Diary of Anne Frank") and Simpson ("On Golden Pond") are both dynamic actors and have terrific chemistry. We can relate to these characters and really get to understand their motivations and flaws.
One of the best scenes in the play has Ross calling out Green for his homophobia and self-righteousness. Ross's arguments are well-thought out and never condescending.
Blanchette also does a good job of showing the resentment Ross feels from having to hide his sexual identity in the workplace.
Simpson takes what could have been a stereotypical grumpy old man and imbues Green with deep-seated vulnerability. He is not so much bigoted as very set in his ways.
Ross manages to help Green break down his walls and let go of his prejudices. In a way, Ross is offering salvation for Green as well as for himself. They begin as strangers and end up as friends. It's a hopeful message considering how much anger there is in the world.
"Visting Mr. Green" is ultimately heartwarming and bound to elicit some tears. There are some very raw emotions on display. Keep a tissue handy.
"Visiting Mr. Green" runs through November 3. Arctic Playhouse. 117 Washington St., West Warwick, RI. For tickets, visit the website at http://www.thearcticplayhouse.com or call 401-573-3443
Joe Siegel has written for a number of other GLBT publications, including In newsweekly and Options.
Comments on Facebook