Macbeth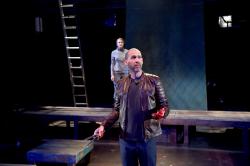 A cursed play, a future king and three witches. Nobody wove a tale like the Bard; if there is going to be ambition, murder, deception and madness, it must be from his quill. And it shows that four centuries later, humans haven't lost their ability to do some really, really nasty things.

"Macbeth" or the Scottish Play as it is often known to those that support the curse. Originally thought to have been cursed by actual witches who delivered the hex in response to Shakespeare using actual spells in his text. I suppose we'll never know if that is true, but Trinity speaks its name loudly in this update to modern times. Following a tradition over the past several years of presenting Shakespeare in a non-traditional setting, that is to say, no Elizabethan costumes and settings but keeping the text as originally written.

One cannot help but admire the actors for upholding this tradition, especially when the text is traditional: both leads Mauro Hantman (Macbeth) and Julia Atwood (Lady Macbeth) have the chops to make the show riveting. As the three witches are introduced, the prophecies laid bare by each come to pass for our protagonists. Notably a longer show, the pace is quicker for today's more "impatient" audiences and the focus on lighting, magic and visuals make for a dazzling night.

Company actors Stephen Berenson and Janice Duclos are joined by Gamm company member Janine Kane, who this reviewer had seen in the role of Lady Macbeth some years earlier. All three are delightfully nasty as the spell casters; complete with bloody faces and black costumes, the witches are fun to watch. Other member of the company provide the peripheral characters. Rachael Warren (Lennox and Others) and the great Fred Sullivan, Jr. (Ross) are welcome additions to this cast.

Brown/Trinity MFA students Aman Soni (Malcolm and Others) and Viraj Gandhi (Donalbain and Others) sink their teeth into each of their roles. Timothy Crowe is on board as Duncan and others and is always entertaining. But the show shines with Hantman and Atwood. Atwood has the ability to evoke craziness with her eyes, no small feat, and when she sleepwalks you see the madness plainly. Hantman has a strong stage presence; his descent into insanity is riveting. But the show shines in its lighting design (Oona Curley) and magic design (Nate Dendy,) both are welcome additions.

Michael McGarty set designs are always interesting, and this is no different. A cage and night set high in the rafters is an unusual touch; when Macbeth and Macduff (Alexander Platt) begin their duel it starts on the ground lever but concludes in a cage match, making us all wish the fight choreography by Zdenko Martin went on a bit longer. All in all, it's a slick production (directed by Curt Columbus); the first act being the more static, but Columbus pulls out all the stops in the second, and "Macbeth" has never seemed more action packed. Bring your friends here instead of a movie, you'll be entertained from the first moments.

"Macbeth" is running through March 3rd at Trinity Repertory Company, 201 Washington Street, Providence, RI 02903. For information or tickets call 401-351-4242 or visit www.trinityrep.com.

Julia Atwood and Mauro Hantman in "Macbeth" at the Trinity Repertory Company through March 3.
Comments on Facebook