Tell Me A Story - Season 2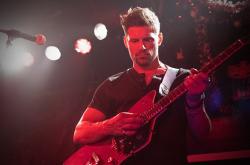 It's storytime again as the CBS All-Access exclusive "Tell Me a Story" returns for a second season. These aren't the animated Disney movie versions that you grew up with. No, these are dark, modern takes on the beloved fairy tales.

Much like its similarly themed predecessor "Once Upon A Time," "Tell Me A Story" offers new versions loosely based on the classic stories — though much more Gothic than the family-friendly ABC show. It follows the framework established during its inaugural season, twisting three different stories with interlocking narratives that find the characters crossing paths with each other. While last season's tales (Little Red Riding Hood, Hansel and Gretel, and Three Little Pigs) lent themselves to the macabre a little bit more, this season it's princess-themed: Beauty and the Beast, Sleeping Beauty, and Cinderella all provide the source material.

"Story" has fixed one of the biggest problems from its first season by centralizing much of the plot on a single family and the people in their extended world. Each of the Pruitt siblings is battling their way through their own story. Ashley Rose, the youngest sibling, is on the verge of getting her big break in the music industry with the launch of her debut album, but a disfiguring car accident could derail her career. Older sister Maddie is engaged to be married but feels her fiancé is pulling away. Little does she know that her fiancé, who claims he's suffering from insomnia, is actually preoccupied with a comely graduate student. Their black sheep brother, Jackson, is attempting to straighten out his life when he meets a mysterious visitor from out of town.

While centralizing the story around a related cast of character helps in some ways, the show still has too much going on by trying to service all of the various storylines. In the initial two episodes made available for review, much of the time is spent on Ashley Rose's story. It doesn't leave much for the other stories, and they each require so much initial exposition that Simone, the show's Cinderella, doesn't even get a chance to introduce us to her wicked stepmother until the second episode.

It's a shame that, at least so far, the cast hasn't been given more of a chance to shine as there's plenty of talent on hand. Following the lead from "American Horror Story," "Tell Me A Story" is recycling some of its core actors with Paul Wesley ("The Vampire Diaries") and Danielle Campbell ("The Originals") returning to the universe after appearing in the first installment, but they are new characters living in Nashville this time around. They are joined by Carrie-Ann Moss, Odette Annable, and Campbell's co-star from "The Originals," Eka Darville.

The first episode is co-written by series creator Kevin Williamson ("Scream," "The Vampire Diaries"), but there isn't much of his trademark dialogue on display. Maybe it's because they are just trying to get through the necessary introductions, but there's an element of fun that is missing. A show that has literally introduced itself on a wave of sex, drugs, and rock 'n' roll shouldn't feel like a slog to get through.

In just these two episodes, the show has already offered one or two "what the heck" moments, but it has also veered dangerously close to campy, soap opera territory. The Cinderella storyline, which has only gotten as far as the funeral for Simone's father, is the one that is the wobbliest. Her stepbrothers have a weird habit of talking over each other and Garcelle Beauvais, as the wicked stepmother, shouldn't be allowed too close to any of the furniture with the amount of scenery she's attempting to chew in her few scenes.

"Tell Me A Story" needs to take its own advice and tell a single, more streamlined story. It's still early days in the ten-episode season, but even with a more centralized narrative, there is too much going on. Focusing on fewer fairy tales each season would let producers better explore the characters contained within it and provide more stories for future seasons if they are lucky to get a happy ending and avoid cancellation.
Comments on Facebook