Review: 'Leap Of Faith - William Friedkin On The Exorcist' Explores the Classic in Depth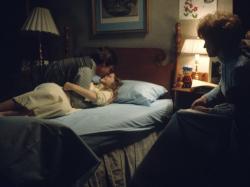 Every Halloween season there's one film at the top of my horror movie list that I view: "The Exorcist." The man behind the camera of that classic movie, William Friedkin, has been interviewed countless times for "Exorcist" DVD and/or Blu-ray releases. But now on Shudder, "Leap of Faith: William Friedkin on the Exorcist" becomes the definitive documentary about the in-depth filmmaking process that took place in 1973.

Friedkin opens up like he never has before, showing a vulnerable side not seen too often. He's still tough as nails, though, recalling memories of not being able to get a tough performance from Max von Sydow in a key scene toward the film's end. Nor was Friedkin happy with the initial music soundtrack presented to him (he later created a temp score).

But "Leap of Faith" isn't a gossipy documentary. Friedkin praises his actors, minimally speaking about his experience working with actresses Ellen Burstyn or Linda Blair. He mostly examines the technical aspects of many scenes, and his use of spontaneous "one takes" that Friedkin got out of his actors. One particular incident that worked back in the day, with Friedkin smacking real-life priest Bill O'Malley, has the filmmaker admitting he wouldn't use that approach now.

The documentary boils down to what Friedkin defines "The Exorcist" as: The mystery of faith. He explains the film's use of symbolism, the themes of ascension seen in "The Exorcist," and why the infamous crucifix masturbation scene was never meant to be tame.

Even the talented director of "The Exorcist" can't explain the film's ambiguous ending. Perhaps that's the point of the film: People still discuss its impact. And a 2021 remake of "The Exorcist" has been reported, a fact that Friedkin wisely eschews in an otherwise insightful documentary.


"Leap of Faith" is available for streaming on Shudder starting on November 19th.
Ken Tasho is a Corporate Drone by day and Edge Contributor by night. He has a love for all things '80's and resides in the Wayland Square area of Providence, RI...but would much rather be sharing an apartment in NYC with '80's rock goddesses Pat Benatar and Deborah Harry.
Comments on Facebook