Review: 'Nowhere' a Compassionate Look at Gay Immigration Issues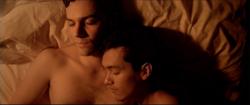 We all yearn to feel safe and find our place of belonging. But what if the place you call home threatens to expel you? What if nowhere feels safe or quite like home? Written and directed by David Salazar and Francisco Salazar, "Nowhere" is a Colombian-U.S. film that tells the story of Adrian (Miguel González) and Sebastian (Juan Pablo Castiblanco), two gay Colombian men in a relationship who are living together in New York City and how their relationship becomes strained when Sebastian's visa expires.

Beyond telling a compelling story, "Nowhere" is incredibly relevant, as we witness homophobia and the cruelty of detention centers (a.k.a. concentration camps) and deportations of Latinx people in the U.S.

"Nowhere" is available on DVD today from TLA

"Nowhere" opens by showing us a window into the couple's lives: They have sex, make breakfast, wash dishes, jog, shower together, and hold hands walking down the street. Adrian and Sebastian share an electric chemistry, feeling like an authentic couple with a long history. They have built a life together in New York City. Adrian works in marketing, and Sebastian is a journalist. We see them spend time with friends - playing soccer, at a bar, and at karaoke. Many queer films tell the story of a couple falling in love and entering a relationship. It's a refreshing change to see an established couple's affection and mundane daily routines that we see in a myriad of films with hetero characters.

Their joyous life is threatened when Sebastian's visa isn't approved. In a job interview, Sebastian reveals how dire his immigration situation is: "I can't go back. My entire family abandoned me and I was living in a tiny garage in Bogotá." But it's confusing, as a few scenes later he's the one advocating to Adrian (much to his chagrin) to move back to Colombia. Perhaps he feels conflicted, which is understandable. Colombia has laws for marriage equality and prohibiting discrimination against the LGBTQ community. But while laws protecting rights are vital, they don't guarantee acceptance or safety for queer people.

Adrian and Sebastian consult an immigration lawyer for advice. They discuss various options, such as getting married, but Adrian isn't a citizen and doesn't have a green card. They ask Sebastian's close friend Steph to marry him. They consider paying someone to marry him, an exorbitant expense. They desperately search for a solution - or, more accurately, Adrian searches, as he wants to stay.

Adrian gets upset at Sebastian when he suggests they consider moving back to Colombia. "We're safe here," says Adrian. But Sebastian says "this isn't working" for him. After this conversation, we see a repetition of the opening montage, but it feels different now, with a burgeoning rift opening up between them. During sex, we see Sebastian's face, and he's clearly not interested. They run together, but Sebastian lags behind. They wash dishes, but now with an absence of joy, warmth, and affection. Their immigration dilemma reveals the cracks in their relationship. When you face difficulty as a couple, it potentially brings you closer together - or rips you further apart.

While Sebastian is out, his family ostracized and abandoned him for being gay. But Adrian has not yet come out to his parents. Steph criticizes Adrian for not telling his parents about their relationship. Sebastian replies, "I don't want him to go through the same thing I went through with my dad. He wouldn't be able to handle it." It's sweet that Sebastian wants to shield Adrian from that pain. However, it simultaneously upsets him, as we see in subsequent conversations. He eventually tells Adrian that if he's truly looking out for both of them, he would tell his parents the truth. Adrian tries to come out to his parents, but he can't bring himself to do it. While I completely understand Sebastian's feelings, you can't pressure someone to come out to their family.

Adrian's frustration over the situation escalates, leading to fights with co-workers, friends, and Sebastian. Adrian violates Sebastian's privacy and answers his phone, learning that Sebastian has an interview for a job in Colombia. As they argue, only one of them at a time occupies the frame. Their disconnection and anger with each other overwhelm so they can't even share the same frame. As they lie in bed at night, bathed in a turquoise light, they're filmed upside down, visually mirroring the upending of their relationship and their world. It's a gorgeous, yet melancholy scene.

While eventually reaching a resolution, the film ends shrouded in uncertainty. We don't know exactly what the future holds for these characters. Uncertainty remains a part of real life, especially for immigrants tackling citizenship and immigration issues, always at the whim of a visa. "Nowhere" compassionately conveys the struggles of immigrants and queer people, and how a couple navigates obstacles, especially when two people have conflicting desires.
Comments on Facebook