Review: 'Cicada' is Sweet and Anxious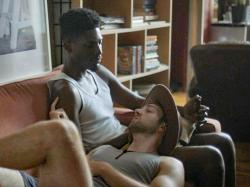 Writer and co-director Matt Fifer drew on his own experiences to create "Cicada," a story about a twenty-something named Ben (Fifer) who comes out and begins to explore his sexuality as he moves away from a feeling that being gay somehow means he'll "lose."

A series of sometimes-comic, sometimes-uncomfortable encounters ensues, involving everyone from Theresa (Jason 'Freckle' Greene) to guys hitting on Ben at bars to one of the middle-aged "DILFs" Ben works for as a painter. Some of the encounters lead to sex - and while some of the sex might be enjoyable, some of it is downright boring (as when Ben takes home a young woman).

From this haze of flirtation and confusion, something genuine emerges when Ben meets Sam (Sheldon D. Brown, who is credited as having contributed "additional story" to the film). As Ben and Sam get to know each other, they slowly open up about past traumas that are very different, and yet still hold a terrible sway over their lives. Harder for Sam is the way he's still in the closet, especially when it comes to his religious father, while Ben has found nothing but support from his mother and sister (even though his sister tases him about being "back on the dick"). But when it comes to his own past trauma, Ben, too, is still in a kind of closet, especially when it comes to his mother - and that feeds into deeply guarded secrets that resurface as nightmares, panic attacks, and bouts of hypochondria.

By turns sweet and anxious, the film makes a virtue out of its naturalistic style and it's easy to care about where these characters are going... and how they are going to get there.
Kilian Melloy serves as EDGE Media Network's Assistant Arts Editor. He also reviews theater for WBUR. His professional memberships include the National Lesbian & Gay Journalists Association, the Boston Online Film Critics Association, The Gay and Lesbian Entertainment Critics Association, and the Boston Theater Critics Association's Elliot Norton Awards Committee.
Comments on Facebook