Descanso Gardens Lights Up the Night with 'Enchanted Forest'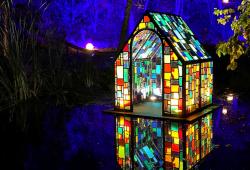 December is upon us, and with it comes a whimsical blizzard of great holiday events all over Southern California. No strangers to the seasonal festivities, Descanso Gardens is once again jumping on this festive sleigh ride with its annual lights extravaganza, "Enchanted Forest of Light." As soon as the sun goes down, their grounds will spark up with thousands of twinkling lights transforming the popular Gardens into a magical playground for the young and old alike. Shining through January 5th, Descanso Garden's "Enchanted Forest" is one attraction you won't want to miss.

Guests can look forward to ten luminous exhibits located across the Gardens, all of them twinkling with brilliance and shimmering in its own special way. Located across a one-mile stretch of some of the most popular areas, not only are these exhibits beautiful to see, but most are interactive. Kids especially will be thrilled that they can manipulate the lights and sounds they encounter, making the experience extra magical.

Upon entering the grounds, you will encounter Flower Power, a large bed of lighted tulips in a variety of transforming colors. The flowers put on their own show, changing from hue to hue in a synchronized pattern. Beyond this you will find the Celestial Shadows by HYBYCOZO, a display of spinning installations that hang from the trees and allow you to explore geometry through light and shadow. Take a moment here to admire the Camouflage House by contemporary sculptor Tom Fruin, which graces Descanso's Mulberry Pond.

Lightwave Lake lies just beyond and here guests can control the lighted landscape. Watch as the water, shore and surrounding trees change colors with the touch of a button or a turn of a handle. This is a great time to take a small break at the welcoming Lakeside Lookout, located next to the Lake, which is cozy and warmed by a number of fire pits.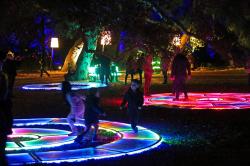 One of the most popular exhibits is the Luminous Lawn featuring "Aqueous" by artist Jen Lewin. These interactive pathways of light shine with illuminated interactivity and are a huge hit with people of all ages. There were hundreds of guests partaking in collaborative play across the Lawn, making the night glow with color. Here you will also find a number of colorfully lit benches, and while they may look too pretty to sit on, feel free to take a seat while the kids wear themselves out.

There is so much to see at "Enchanted Forest." So, whether you're walking under a canopy of bright stars in the Starlight Garden, or making a wish on one of the dozens of red lanterns in the Garden of Good Fortune, you'll go home filled with wonder from the twinkling exhibits.

If you're worried about the weather, the Garden has a variety of hot beverages for sale that you can take with you during your adventure. There are also a variety of food and snack items if you find yourself hungry before or after. The gift shops are open and filled with seasonal surprises so make sure you take a look before heading home to pick up some last minute Christmas gifts.

We are lucky to live in such a festive city with so many wonderful winter attractions. Make it a point to visit Descanso Gardens during the holidays, they will make your seasonal experience glow with spirit.

"Enchanted Forest of Light" runs through January 5th at Descanso Gardens, located at 1418 Descanso Drive in La Cañada Flintridge. For tickets and information call (818) 949-4200 or visit www.descansogardens.org.
Comments on Facebook