Top Story
Tomorrow the current TNT Champion wrestler Cody Rhodes is to defend his title against his out opponent Sonny Kiss, which got the ire of a homophobic Twitter fan.
1 thru 10 of 54708 Stories
Ivanka Trump on Wednesday defended tweeting a photo of herself holding up a can of Goya beans to buck up a Hispanic-owned business that she says has been unfairly treated, arguing that she has "every right" to publicly express her support.
Con artists on Wednesday apparently hacked into the Twitter accounts of technology moguls, politicians and major companies in an apparent bitcoin scam.
"We've definitely seen homophobic, heteronormative and racist values seep into AI," says Lesbians Who Tech Founder Leanne Pittsford. Find out how in EDGE's latest investigative feature.
Andrew Sullivan teased the media with Tweets on Tuesday as to the reasons for his upcoming departure from NYMag. Today the Daily Mail speculates as to why.
Walmart will require customers to wear face coverings at all of its namesake and Sam's Club stores, making it the largest retailer to introduce such a policy that has otherwise proven difficult to enforce without state and federal requirements.
Oklahoma Gov. Kevin Stitt announced Wednesday that he's the first governor in the United States to test positive for the coronavirus and that he is isolating at home.
A Philadelphia-based event producer for drag shows has accused "RuPaul's Drag Race" star Mimi Imfurst of sexual misconduct, which the performer denies.
Just 11 days after announcing his late bid for the White House, an adviser to Kanye West told New York Magazine's Intelligencer that he is no longer running for president.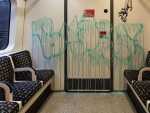 Even if you are Banksy, tagging is forbidden on London's Underground.
Kanye West has earned 2% of the vote in a national presidential poll after he announced he is running for president this year.
1 thru 10 of 54708 Stories