Gay Providence: The Latest
A Black transgender woman on Monday sued Georgia prison officials, saying they have failed to protect her from repeated sexual assaults behind bars and failed to provide her with adequate medical treatment.
On Saturday, Wentworth Miller spoke out on Instagram about his resistance to having his "Prison Break" character come out as gay in a potential reboot of the series.
A firearms-toting congresswoman-elect who owns a gun-themed restaurant in Rifle, Colorado, has already asked Capitol Police about carrying her weapon on Capitol grounds, her office has acknowledged. If she does so, she apparently won't be alone.
Australian Harry Jowsey was the break-out star from Netflix's hit reality show "Too Hot Too Handle" this past summer. And a recent trip to California's Venice Beach showed as to why.
A federal appeals court is blocking the enforcement of local ordinances in Florida that ban therapy that seeks to change the sexual orientation of LGBTQ minors. The ruling issued Friday could put similar prohibitions at risk.
Why aren't there more out professional sports players? A new report suggests the reason isn't just homophobia.
Australian firefighters have outdone themselves this year with a set of 2021 calendars.
DC Comics has announced a new non-binary superhero, Kid Quick, who will use "they/them" pronouns and become the new Flash in the forthcoming comic book title "Future Slate: Justice League."
"Love, Victor" actor Lukas Gage put an unknown director on blast Friday when he uploaded a recording of a Zoom audition to Twitter where the director can be heard making disparaging remarks about Gage's apartment.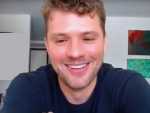 Ryan Phillippe looking back at his teenage stint playing a gay character on a soap opera and his breakout movie "Cruel Intentions," revealed that his parents "shunned" him out of disapproval of an early gay role.
A 19-year-old who was attacked and beaten on the Transgender Day of Remembrance took to social media to post photos of her bloodied face and call out her assailants.
Providence, RI
Forget the pandemic and get happy! SpeakEasy Stage Company celebrates its 30th Anniversary with a virtual concert. Producing Artistic Director Paul Daigneault shares details about the Nov. 19 premiere.
Morgan Ingari's comedy is a stirring, poignant character study of a young woman caught in one of life's dead zones, where she's not making progress — and not even sure she's feeling a need to.

One former Black porn star says looking back after seven-plus years outside the industry, it's clear it was "a whole toxic environment of white supremacy and racism, completely all the time." Has anything changed?
Size does matter, and smaller is more profitable, at least with men's incomes.
With the breaking news this week that Pfizer's COVID-19 vaccine shows 95 percent efficacy, the idea of traveling again may be in the not-so-distant future. But who will lead the charge?
General Motors says a pending breakthrough in battery chemistry will cut the price of its electric vehicles so they equal those powered by gasoline within five years.
Beppe Modenese, the force behind the coalescence of Italian ready-to-wear fashion in the northern city of Milan, has died. He was 90.
Some worry a lack of contact with others will weaken their immune system by reducing its active contact with germs.
Millions of Americans bought tickets to fly somewhere for Thanksgiving before the nation's top public health agency pleaded with them not to travel for the holiday.
Our look back from the Epic at the Roxy archive when it was Boston's primo nightlife choice continues with these pics.