1 thru 10 of 4280 Stories
Wheaties announced this week that Serena Williams, one of the world's top and most decorated tennis players, will be the next athlete to adorn the cover of Wheaties iconic orange box.
Summer is time to chow down at a good old-fashioned American barbecue, but what about the vegans?
A three-week pregnancy discrimination trial against celebrity chef Thomas Keller and his acclaimed New York and Napa Valley restaurants is coming to a close. The San Francisco Chronicle reports that lawyers finished closing arguments Monday in Napa Count
This summer, Chicago takes rooftop dining to new heights with a slew of contemporary concepts that reflect Chicago's culinary talent and distinct neighborhoods including the Fulton Market District, Navy Pier, The Loop and Old Town.
Territory offer fully cooked meals from local chefs, prepared with insights from nutritionists to ensure what you're getting out of your meal is as bountiful as what's on the plate.
A Kentucky distillery says efforts are underway to recover thousands of barrels of bourbon at a massive storage warehouse that partially collapsed during a thunderstorm.
A New Orleans po-boy shop featured in "The Simpsons" and a video by Drake is serving up its last sandwiches this summer.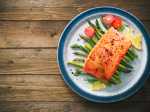 AquaBounty hasn't sold any fish in the U.S. yet, but it says its salmon may first turn up in places like restaurants or university cafeterias, which would decide whether to tell diners that the fish are genetically modified.
Cracker Barrel says it won't host an event by a Tennessee church whose pastor was a detective who preached that the government should execute gay people.
If you're a red meat-eater, there's a good chance you're eating more of it than you should.
1 thru 10 of 4280 Stories