Top Story
Not long after their wedding ceremony, Justin and Hailey Bieber are sharing steamy pics from a new Calvin Klein campaign.
So is red meat good or bad for you? If the answer were only that simple.
An Ohio homeowner never envisioned becoming semi-famous because of a goat butting its way into her home and taking a nap in her bathroom.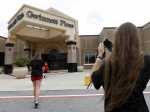 Most of the Georgia mall heavily featured in the latest season of Netflix's "Stranger Things" is going up for sale.
Thousands of pairs of Nike knockoffs were seized at the Los Angeles-Long Beach ports complex recently in a shipment arriving from China, U.S. Customs and Border Protection said Wednesday.
Hotels in the nation's most populous state will have to stop giving guests small plastic shampoo bottles under a new law set to take effect starting in 2023.