2019 LGBTQ History Tour 1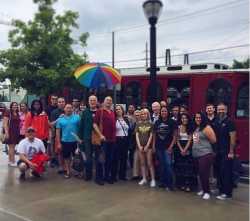 When:
Sunday June 2 at 1:00PM

Where:
National Center for Civil and Human Rights

Visit Website Visit Facebook Event Buy Tickets
About:

This 2 hour tour, narrated by local LGBTQ historian Dave Hayward, and others, will offer us a glimpse into the past while enjoying an afternoon of fun!

The tour will begin and end at the Center for Civil and Human Rights. Please allow for enough time get to The Center, as we will plan to leave promptly at 1pm during both tour dates.

TOUR 1 - SUNDAY, JUNE 2, 1:00pm
Tour 1 will focus on the Little Five Points area and lesbian oriented spaces and events, as well as the Midtown area including some of the first openly gay bars like Mrs. P's on Ponce and sites of assaults like the raid on the Eagle bar on Ponce de Leon.

TOUR 2 - SUNDAY, JUNE 23, 1:00pm
Tour 2 will focus on the Ansley Mall area and Cheshire Bridge corridor. The Midtown area (especially 10th and Piedmont) and the Cheshire Bridge-La Vista Road areas are some of the first locations locally to welcome openly LGBT businesses and enterprises. As such, they remain part of the fabric of our story here and of our human and civil rights saga.