South Florida Gay News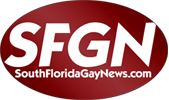 The South Florida Gay News.com celebrates the lives of South Floridians with daily news briefs and storied features, breaking news and lifestyle profiles. Check out their website at southfloridagaynews.com.
On the eve of Sept. 23's bisexual visibility day, Broadway actor Andy Mientus shared his thoughts on living openly as a bisexual man via Instagram.
"Wonder Woman" just came out on DVD Tuesday - right smack-dab in the middle of Bisexual Visibility Week - and now bisexual activists have launched a petition to make Princess Diana canonically bisexual in the sequel.
In the midst of the storm of the century, the City of Oakland Park, Florida, moved ahead with plans to ban conversion therapy.
Pop singer Aaron Carter was one song into his nostalgic set at the LGBTQ nightclub Hamburger Mary's when he made a bold statement. "Yes, I am a bisexual man," he told the crowd.
While homosexuality in Hollywood has long been a topic of discussion, the topic of bisexuality has often been kept quiet.
From 14th Century Philosopher Sir Francis Bacon to Italian Fashion Designer Georgio Armani, bisexual people throughout the world have made history in their own way. For one week in September, we celebrate bi visibility.
The 27th annual Southern Comfort Transgender Conference (formerly Southern Comfort Conference) is coming back to Fort Lauderdale.
Anti-gay marriage proponents in Australia mailed pamphlets to residents that promote homophobia using a seatbelt analogy.
"We know where you live faggot. We are going to win. Quit now. When you girls least expect it, we will be here for a nice visit."
Pulse nightclub owner Barbara Poma told WFTV that she is looking for a new site to open her nightclub, to "make sure hate doesn't win."