Top Story
Singer Elton John says he's "deeply distressed" by media accounts that criticized the Duke and Duchess of Sussex for taking a private jet to go on vacation despite t...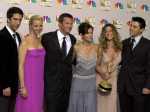 See your "Friends" on the big screen. Deck out your place with "Friends" furniture. Wear your "Friends" as jewelry. Heck, buy the "Friends" Lego set and pretend it's for your kid.
The 25th James Bond movie has a title: "No Time to Die."
Based on "Moonlight" writer Tarell Alvin McCraney's upbringing, "David Makes Man" follows teenage David, played by Akili McDowell, who tries to juggle relationships between his school friends and drug dealers in his South Florida impoverished neighborhood
Tom Sturridge and Jake Gyllenhaal star in two one-acts that are both are loving, quiet works that require full audience attention.
Make all the neuralyzer jokes you want. "Men in Black: International" is as forgettable as they come.