Gay Providence: The Latest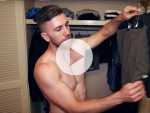 YouTube fitness expert Tyson Edwards offers his favorite picks for a stylish workout.
Democrat Pete Buttigieg, the 37-year-old mayor of South Bend, Indiana, says he's forming an exploratory committee for a 2020 presidential bid.
A sharply divided Supreme Court is allowing the Trump administration to go ahead with its plan to restrict military service by transgender men and women while court challenges continue.
Lawyers squared off Tuesday at the Arizona Supreme Court over whether two Christian artists who make wedding invitations as part of their business can refuse service to same-sex couples for religious reasons.
Growing up as a transgender child in Chile, Angela was so desperate to escape the physical and verbal abuse from other students at her elementary school that she thought about taking her own life.
A trial has been scheduled for an Iowa religious activist who's accused of burning four LGBTQ children's books he'd checked out of a local library.
A North Carolina sheriff's office says a teenager who threatened to shoot the parents of third-graders is due in court.
Chelsea Clinton has announced her family is expanding.
A Catholic boys' school widely criticized after a confrontation at the Lincoln Memorial in Washington is reopening under the watchful eye of law enforcement in Kentucky.
Alec Baldwin is due in court in New York City for a hearing on charges that he slugged a man during a dispute over a parking spot in last fall.
President Donald Trump says he directed White House Press Secretary Sarah Huckabee Sanders not to bother with the traditional daily briefing of reporters.
Providence, RI
The Academy Players of Rhode Island has delivered a slick, high-energy and wildly entertaining production of "Hedwig and the Angry Inch."

"Black Panther" broke through an Oscar category wall for superheroes.
Most U.K. business groups fear a "no-deal" Brexit will cause economic chaos by ripping up the trade rulebook and imposing tariffs, customs checks and other barriers between the U.K. and the EU, its biggest trading partner.
Over the years, scientists have identified dams, pollution and vessel noise as causes of the troubling decline of the Pacific Northwest's resident killer whales. Now, they may have found a new and more surprising culprit: Pink salmon.
GoFundMe, the largest online, crowdsourced fundraising platform, says contributors have raised more than $5 billion, all told, from 50 million donations in the eight years it has been in business.
Toyota Motor Corp. and Panasonic Corp. are setting up a joint venture to research, manufacture and sell batteries for ecological autos, an increasingly lucrative sector amid concerns about global warming.
Always being hungry, wasting hours planning mealtimes and being permanently 'in a mood' are among a list of common misconceptions about life as a vegan, it has emerged.
A New York-LA-based medical services company published a survey of penis size by state.
Travel vlogger Damon Dominique of DamonAndJo heads to Israel and Palestine for a must-watch adventure.
Providence, RI
Chris Harris, the party promoter who died this past week, is being remembered over the next two days in Providence.
The sky over San Francisco brightened up to welcome 6,000+ people to this year's Women's March. Community activists from every minority group came out to support women across the US!