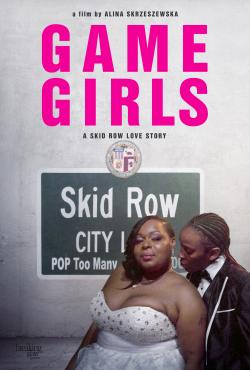 Breaking Glass Pictures has acquired North American rights to the intimate, unfiltered LGBTQ drama GAME GIRLS.

The film will open theatrically in Los Angeles this May, followed by a VOD release on May 14, and DVD on May 21.

Described an "intimate...portrait of romance on the skids (The Hollywood Reporter) that People's Worldcalled "unfiltered, and at times unsettling, film forces us to acknowledge that the crisis of homelessness is not just faceless statistics, GAME GIRLS held its world premiere at Berlinale Panorama, and went on to have a healthy festival life with screenings at the 55th Gijón International Film Festival where it won the CIMA Award for Best Feature Directed by a Woman, and Sheffield DocFest.

"L.A.'s Skid Row, our infamous national capital of homelessness, deserves a deeper look", said Skrzeszewska. "Instead of telling a story of misery and redemption, Game Girls is an intimate portrait of Teri and Tiahna, a lesbian couple, who experience both the outlandish and the mundane aspects of life on Skid Row with a mixture of love, rage and humor. I'm very excited to be working with Breaking Glass on bringing a story that defies easy classifications and boxes to audiences nationwide."

Game Girls follows Teri and her girlfriend Tiahna as they navigate their relationship through the chaotic world of Los Angeles' Skid Row, aka the "homeless capital of the U.S." A dilemma fuels the tension between the two women: while Tiahna seems comfortable being a player in the underground economy of Skid Row, Teri is driven by a powerful desire to get out. Together, with other women from the neighborhood, they attend a weekly Expressive Arts workshop where they are looking to reflect, dream, and heal. Can their love survive the violence of their past and their current environment?

"Visually unique, fresh and exciting, GAME GIRLS is technically a documentary, but feels like a narrative on first viewing", said Richard Ross, Co-President of Breaking Glass. "Director Skrzeszewska leads us squarely into both the heart of Skid Row, and the heart and minds of her two compelling female leads, Teri and Tiahna, as they attempt to build a relationship amidst the chaos of the street. Truly heartfelt and personal."

"We are very happy to find a home for Game Girls, and to be able to bring it, after a fantastic showing throughout the world, to US audiences", said Daniela Elstner, CEO of Doc & Film International.

Enter to win!

Thanks for visiting EDGE!
Enter this contest
If you already have an account with EDGE, all you need to do is log in; we'll pull your address information from your account and simply ask you to verify it. If you do not yet have an account with us, register now! It's easy and free, and you'll never have to type in your personal information again. If you prefer to enter this information manually, you can use the manual entry link below.
Register
Manual Entry
Click here for contest rules.
* Please be aware that creating multiple accounts for the same person will disqualify you.