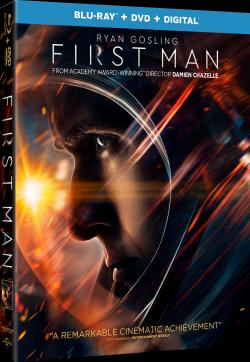 FIRST MAN

AVAILABLE ON DIGITAL JANUARY 8, 2019 AND ON 4K ULTRA HD, BLU-RAY™ AND DVD JANUARY 22, 2019 FROM UNIVERSAL PICTURES HOME ENTERTAINMENT

"A remarkable cinematic achievement" - Entertainment Weekly

Follow the gripping and captivating true story of the first manned mission to the moon in FIRST MAN, arriving on Digital and via the digital movie app MOVIES ANYWHERE on January 8, 2019 and on 4K Ultra HD, Blu-ray™, DVD and On Demand on January 22, 2019 from Universal Pictures Home Entertainment. Hailed by critics as "the best movie of the year" (Collider) and "exhilarating" (Entertainment Weekly), FIRST MAN comes from acclaimed Oscar®-winning director Damien Chazelle (La La Land, Whiplash) and stars Ryan Gosling (La La Land, The Big Short) as Neil Armstrong and Claire Foy ("The Crown," Breathe) as Janet Armstrong in the heroic and emotionally driven journey through a pivotal moment in the history of mankind. Receiving two Golden Globe® nominations for Best Supporting Actress (Foy) and Best Original Score (Justin Hurwitz), the critically acclaimed film is packed with bonus features including deleted scenes and special featurettes showing behind-the-scenes looks at creating the film.

Based on the book First Man: The Life of Neil A. Armstrong by James R. Hansen and from visionary filmmaker Damien Chazelle, FIRST MAN is the riveting story behind the first manned mission to the moon, focusing on Neil Armstrong and the decade leading to the historic Apollo 11 flight. A visceral and intimate account told from Armstrong's perspective, the film explores the triumphs and the cost—on Armstrong, his family, his colleagues and the nation itself—of one of the most dangerous missions in history. The critically acclaimed FIRST MAN comes from legendary executive producer Steven Spielberg (Jurassic World: Fallen Kingdom, Schindler's List) alongside fellow executive producers Adam Merims (Baby Driver, Straight Outta Compton) and Josh Singer (The Post, Spotlight) with a screenplay by Singer allowing audiences to relive the historic achievement in human history that has never been told cinematically. Filled with outstanding performances from an all-star cast led by Gosling and Foy alongside an incredible roster of supporting talent including Kyle Chandler (The Wolf of Wall Street, "Friday Night Lights"), Jason Clarke (Zero Dark Thirty, Mudbound), Corey Stoll ("The Strain," "House of Cards"), Pablo Schreiber (Skyscraper, "Orange is the New Black"), Christopher Abbot ("The Sinner," Whiskey Tango Foxtrot), and Ciarán Hinds ("Game of Thrones," Tinker Tailor Solider Spy), FIRST MAN "explodes with cinematic wonder" (Inverse).

SPECIAL FEATURES:

Deleted Scenes

Shooting for the Moon - Take an intimate look at the production of FIRST MAN and the collaborative relationship between Director Damien Chazelle and Ryan Gosling.

Preparing to Launch - It's difficult to believe that FIRST MAN is the first major feature film to tell the journey to Apollo 11. Hear from Director Damien Chazelle and his cast why now is the time to tell the story of this historic event.

Giant Leap in One Small Step - A heroic character study, FIRST MAN sheds light on all the hard working individuals that got us to the moon and back.

Mission Gone Wrong - Watch as Ryan Gosling reenacts a test piloting sequence gone terribly wrong. Go behind the scenes to see how he trained to nail the landing, performing the majority of his own stunts.

Putting You In the Seat - Through the use of innovative technology, most of FIRST MAN was shot in-camera. Take an in-depth look behind the lens of this epic film.

Recreating the Moon Landing - Filmed in IMAX to show the vastness of the moon, find out all that it took to recreate the most famous moment in NASA history.

Shooting at NASA - Hear from Ryan Gosling and Director Damien Chazelle on how shooting at NASA brought unparalleled authenticity to FIRST MAN.

Astronaut Training - Go behind the scenes of the three day boot camp each of the actors underwent prior to filming FIRST MAN.

Feature Commentary with Director Damien Chazelle, Screenwriter Josh Singer and Editor Tom Cross

http://uni.pictures/FirstMan

Enter to win!

Thanks for visiting EDGE!
Enter this contest
If you already have an account with EDGE, all you need to do is log in; we'll pull your address information from your account and simply ask you to verify it. If you do not yet have an account with us, register now! It's easy and free, and you'll never have to type in your personal information again. If you prefer to enter this information manually, you can use the manual entry link below.
Register
Manual Entry
Click here for contest rules.
* Please be aware that creating multiple accounts for the same person will disqualify you.