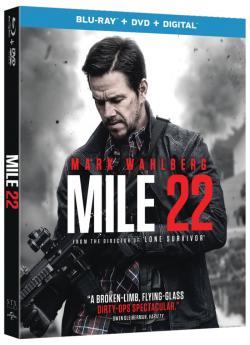 James Silva and his CIA unit embark on a 22-mile gauntlet under deadly circumstances in Mile 22, arriving on Digital on October 30, 2018 and on Blu-ray Combo Pack, DVD and On Demand on November 13, 2018 from STXfilms and Universal Pictures Home Entertainment. From acclaimed director Peter Berg (Lone Survivor, Deepwater Horizon) Mile 22 stars an outstanding cast including led by Mark Wahlberg (Deepwater Horizon) along with Lauren Cohan ("The Walking Dead"), Iko Uwais (The Raid), Ronda Rousey (Fast & Furious 7) and John Malkovich (Red).

In a visceral modern thriller from the director of Lone Survivor, Mark Wahlberg plays James Silva, an operative of the CIA's most highly-prized and little-known unit. Aided by a top-secret tactical command team, Silva must transport an asset (Uwais) who has vital information to an airfield for extraction before the enemy closes in. "Loaded with edge-of-your-seat action" (Steve Weintraub, Collider), Mile 22 is the perfect film for fans of fast-paced combat cinema.

Deemed as "Mark Wahlberg's best action movie to date" (Jack Giroux, Film), Mile 22 is filled with non-stop action and intense stunts. The film on Blu-ray, DVD and Digital comes packed with exciting bonus features including a behind-the-scenes look at stunts with actor and stunt choreographer Iko Uwais, a special featurette on the fearless female actresses and more that take audiences deeper into the adrenaline-filled story.

BONUS FEATURES on BLU-RAY COMBO PACK, DVD AND DIGITAL

-Overwatch: Follow the "Overwatch", the para-military division in Mile 22, and explore the background and inspiration as to why this type of team was chosen for the film.

-Introducing Iko: A spotlight on world-renowned action star Iko Uwais and his experience with combat fighting, stunt work and choreographing his own scenes in the film.

-Iko Fight: Interview with Iko Uwais discussing his intense fight scenes from the practice room to the final shot.

-Bad Ass Women: A behind-the-scenes look with stars Lauren Cohan and Ronda Rousey along with writer Lea Carpenter, discussing stunts, intellectual smarts and the overall tenacity of the film's female characters.

-BTS Stunts: An in-depth take on the creation of the action-packed stunts of Mile 22 with commentary from Director Peter Berg and the film's stars.

-Modern Combat: Explore the concept of modern action cinema, where scenes are created and shot in real time with multiple cameras, mesmerizing cinematography and intense action stunts.

-Colombia: Take a tour Bogota, Colombia with the cast and filmmakers discussing key filming location points.

-Trailers

UPHE Website:
http://uni.pictures/Mile22

Trailer:
http://uni.pictures/Mile22Trailer

Facebook:
https://www.facebook.com/mile22movie/

Twitter:
https://twitter.com/Mile22Movie

Instagram:
https://www.instagram.com/mile22movie

#Mile22Movie

Enter to win!

Thanks for visiting EDGE!
Enter this contest
If you already have an account with EDGE, all you need to do is log in; we'll pull your address information from your account and simply ask you to verify it. If you do not yet have an account with us, register now! It's easy and free, and you'll never have to type in your personal information again. If you prefer to enter this information manually, you can use the manual entry link below.
Register
Manual Entry
Click here for contest rules.
* Please be aware that creating multiple accounts for the same person will disqualify you.