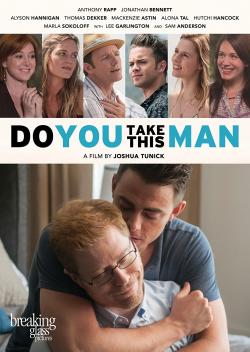 Breaking Glass Pictures has acquired North American rights to Joshua Tunick's heartfelt, socially-relevant drama DO YOU TAKE THIS MAN starring Anthony Rapp (Star Trek: Discovery, RENT, BWOY). Breaking Glass acquired the North American rights to the film in April in a deal negotiated by Breaking Glass CEO Rich Wolff, and Andrew Herwitz and Lucas Verga of The Film Sales Company. Breaking Glass is planning a July limited theatrical followed by a VOD/DVD release.

DO YOU TAKE THIS MAN held its US premiere at Outfest, and went on to play the Cleveland International Film Festival, Reeling-Chicago, and Out in Film: Atlanta. The film is written and directed by Joshua Tunick. Tunick is a graduate of NYU's Kanbar Institute of Film & Television. His award-winning documentaries "Naked Pavement," "Scars Don't Sweat," and "Mr. Smithereen Goes to Washington" have screened at over fifty international film festivals, with "Naked Pavement" receiving the Grand Jury Prize at the Atlanta Film Festival, as well as a Student Academy Award nomination.

Along with Rapp, DO YOU TAKE THIS MAN also stars Jonathan Bennett (MEAN GIRLS), Alyson Hannigan (How I Met Your Mother, Buffy the Vampire Slayer, AMERICAN WEDDING), Thomas Dekker (MY SISTER'S KEEPER, KABOOM!), and Mackenzie Astin (The Magicians). Written by Joshua Tunick, the film's production team includes Producers Eric Kops, Joshua Tunick, and Dave Perkal; Executive Producer Krista Giovara; and Co-Producers Rich Delia, and Jonathan Bennett.

DO YOU TAKE THIS MAN focuses on an intimate group of friends and family as they gather at the home of two gay men (Anthony Rapp and Jonathan Bennett) to celebrate their nuptials. When the wedding hits a snag, this group helps the grooms to see that all marriages have their challenges, and love is just the beginning.
"The Supreme Court's decision on marriage equality came down on the last day of filming "Do You Take This Man", said Producer Eric Kops. "With the recent shift in the political climate, the story is as timely as ever."

"Writer/ Director Joshua Tunick has crafted a beautiful, heartfelt romantic drama about the challenges surrounding the concept and commitment of marriage", said Richard Ross, Co-President of Breaking Glass. "Anthony Rapp leads a talented cast in a film that will resonate with everyone who's ever been in love."

Enter to win!

Thanks for visiting EDGE!
Enter this contest
If you already have an account with EDGE, all you need to do is log in; we'll pull your address information from your account and simply ask you to verify it. If you do not yet have an account with us, register now! It's easy and free, and you'll never have to type in your personal information again. If you prefer to enter this information manually, you can use the manual entry link below.
Register
Manual Entry
Click here for contest rules.
* Please be aware that creating multiple accounts for the same person will disqualify you.