Here are four beach destinations where you could soak up the sun using points and miles.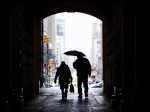 Nearly one-quarter of Americans say they never plan to retire, according to a poll that suggests a disconnection between individuals' retirement plans and the realities of aging in the workforce.
That cuddly new puppy can be pretty intimidating if pet owners consider the veterinary bills it might produce.
There's a best time to buy just about anything , but knowing which product will go on sale at what time isn't always easy.
Surprise bills are a byproduct of the wrangling between two sets of players — insurers and care providers — a battle of giants that often leaves patients holding the bill.