Suddenly Last Summer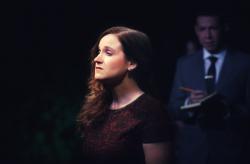 Tennessee Williams' gothic drama "Suddenly Last Summer" causes a quandary for a reviewer.
Epic Theatre Company's production features polished direction by Geoff Leatham ("Wolf Hall") and some stellar performances, yet the story left me cold.
Williams's characters are some of the most compelling in theater history. Blanche DuBois in "A Streetcar Named Desire" and Tom Wingfield in "The Glass Menagerie" are tortured souls looking to break free. The plays were bonafide classics and provided the actors with the chance to chew some scenery.
Unfortunately, "Suddenly Last Summer" isn't quite in the same league. This time the focus is on a troubled young woman named Catherine Holly, who has been institutionalized.
Catherine's wheelchair-bound Aunt Violet holds her responsible for the death of her beloved son Sebastian during a vacation in Mexico. Catherine knows the sordid truth and Violet schemes with a handsome doctor (Alvaro Beltran) to have her niece lobotomized.
Betsy Rinaldi ("The Revolutionists") plays Catherine and it's a compelling performance. Rinaldi is alternately defiant and vulnerable as a woman who is fighting to keep her sanity even as she is surrounded by a group of human vultures with harmful intentions.
Becky Minard ("Night, Mother") is quietly chilling as Violet, a thoroughly unpleasant woman who seems to have had an unhealthy psychological relationship with Sebastian. We learn about Sebastian's love of Venus flytraps and his poetry in an extended monologue.
Rinaldi and Minard bring tremendous vitality and dimension to their characters. The play is notable for seeing two actresses bringing their 'A' game in the telling of a sad tale.
Michelle Mania ("Proof") and Nick D'Amico ("American Drag") appear as Catherine's odious mother and equally vile brother. They beg Catherine not to tell the truth about Sebastian's death so they can gain an inheritance. Her inner torment is not their concern.
I won't go into specifics, except to say that Catherine reveals the lurid details of Sebastian's life, including his sexual proclivities. Sebastian was obviously not the saint his mother made him out to be.
Williams wrote the play in 1958, a time when gay men (and lesbians) were regarded as societal outcasts.
I imagine if GLAAD (Gay and Lesbian Alliance Against Defamation) had existed back then, activists would've been boycotting this show for perpetuating negative stereotypes of homosexuals. What was Williams thinking when he wrote this story?
It's certainly not an appropriate show for LGBTQ youth to see.
So, does "Suddenly Last Summer" work as entertainment? For some audience members it will. Violet and Catherine have some camp appeal for those who like to see strong-willed women pitted against each other. Beltran is charismatic and exhibits plenty of sex appeal.
It's just that Williams takes such a despairing look at humanity here. There is no redemption for many of these terrible people. No uplift. No sense of hope. Leatham and his creative team are in top form, but the results of their work left me depressed.
"Suddenly Last Summer" runs through January 25. Epic Theatre Company. Artists Exchange Black Box theater, 50 Rolfe Square. Cranston, RI. For tickets, visit epictheatreri.org or https://www.artists-exchange.org.
Joe Siegel has written for a number of other GLBT publications, including In newsweekly and Options.
Comments on Facebook