The Rocky Horror Show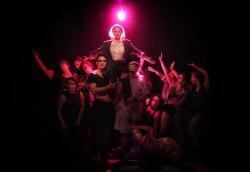 Out Loud Theatre Company has produced a stylish and high-energy production of the classic cult musical "The Rocky Horror Show."
For the last 40 years, the ultimate "midnight movie" has attracted legions of devoted fans dressing up as their favorite characters and shouting dialogue at the screen.
The story goes like this: Brad and Janet, a happy yet hopelessly square young couple, get stranded on a rainy night and end up in a spooky castle occupied by an assortment of eccentric inhabitants.
There's Dr. Frank N' Furter (John Cunha), a flamboyant and lascivious transvestite from Transsexual, Transylvania. He is also a mad scientist who has created the muscular Rocky (Zephyr Goza) for his own entertainment. We also meet his entourage: faithful butler Riff Raff (Maggie Papa), maid Magenta (Chelsea Cook) and perky Columbia (a delightful Lily Ferreira).
Dopey Brad (Jeremy Chiang) and sweet Janet (Beth Alianiello) are each seduced by Frank N Furter in very bizarre fashion. What happens after that doesn't make a whole lot of sense, but maybe that's not important.
This is a show fueled by sheer zaniness and bizarre humor. Composer Richard O'Brien, who also wrote the book and played Riff Raff in the 1975 film, pays homage to 1950s science fiction and horror movies.
Many of the best songs are featured in the first act, including "Sweet Transvestite," "Dammit Janet," "Hot Patootie — Bless My Soul," and one of my personal favorites, "The Time Warp."
Director Kira Hawkridge ("Immortal Thirst"), along with set and lighting designer Marc Tiberiis, have immersed the characters in a surreal, decadent dreamscape. The choreography is imaginative and well-executed by the cast.
The band, under the direction of Emily Turtle, sounded great.
Cunha was appropriately campy as Frank N' Furter and made for a fun villain.
Alianiello and Chiang brought out the heart in their characters and delivered top-notch vocals.
Patricia Hawkridge, (the director's mother), was a lot of fun as the Criminologist, who provides narration.
After seeing "The Rocky Horror Show," it seems like it was the perfect musical for Pride Month. Hawkridge and company have created a world where people are free to be who they are. Sexual and gender barriers have been torn down and a hedonistic atmosphere of lust and fantasy exists in their place.
Frank N' Furter is a purely egocentric being who defies easy categorization. What makes him so fascinating is his freedom to be himself. He also liberates Brad and Janet from their shackles of conformity and allows them to see the world in a different way. These two emblems of bland heterosexuality learn to grow and take some chances. It's inspiring and joyful to see the transformation.
"The Rocky Horror Show" is another huge triumph for Out Loud, which specializes in creating offbeat and edgy entertainments.
"The Rocky Horror Show" runs through June 29. Out Loud Theatre. 134 Mathewson St. Providence, RI. For tickets, visit www.outloudtheatre.org.
Joe Siegel has written for a number of other GLBT publications, including In newsweekly and Options.
Comments on Facebook