Steel Magnolias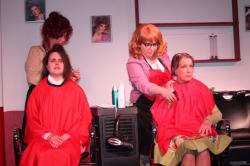 Arctic Playhouse's production of "Steel Magnolias" is an old-fashioned tearjerker with plenty of laughs and terrific performances.
The setting is a Louisiana beauty salon where an eclectic group of Southern belles trades gossip and wisecracks while having their hair styled.
Truvy (Camille Terilli) is the friendly and high-spirited owner of the shop. Her newly hired hairdresser Annelle (the likable Elizabeth Souin) is insecure but has a warm heart. She is also a devout Christian who lives in a rooming house.
M'Lynn (Kathleen Russell) and her beautiful daughter Shelby are regular customers at the salon. Shelby's wedding day has arrived and she discusses her future with everyone. Her main goal is to give her husband a child. The only problem is Shelby is a diabetic and the doctors have advised her about the health risks of becoming pregnant, much to the consternation of M'Lynn.
Clairee (Karen Besson), a wealthy widow who owns the local radio station, and cantankerous Ouiser (Katherine Kimmel, recently seen in "The Diary of Anne Frank") share their own problems with the ladies at the salon.
Playwright Robert Harling specializes in witty dialogue: Truvy gets one of the best lines when she says what distinguishes humans from animals is "our ability to accessorize."
I also liked it when one of the ladies remarks that gay men tend to have track lighting in their apartments. This is funny material and the actresses, under the guidance of director Ida Zecco, have an appealing chemistry together.
Sarah Quintiliani, a stage newcomer, exhibits tremendous charm as Shelby, who is headstrong and will not let anyone dictate what she does with her body.
Kimmel has some great moments as the perpetually grumpy Ouiser, who refuses to go to the theater "because I can nap at home for free." As the story goes on, Ouiser reveals she has a tender side hidden under her brittle façade.
If you have not already seen the show or the 1989 movie adaptation, I am going to provide a major spoiler so consider yourself warned.
Russell, a wonderful actress, capably delivers a climactic monologue - a powerful scene that demonstrates bad things can happen to good (and young) people.
The ladies prove they are tough on the outside but soft on the inside. Despite their marital turmoil and other problems, they make it clear they will survive whatever fate throws at them.
The charming ensemble of "Steel Magnolias" will leave you smiling and crying as you exit the theater.
"Steel Magnolias" runs through June 30. The Arctic Playhouse. 117 Washington St., West Warwick. For tickets, visit www.thearcticplayhouse.com.
Joe Siegel has written for a number of other GLBT publications, including In newsweekly and Options.
Comments on Facebook