Dada Woof Papa Hot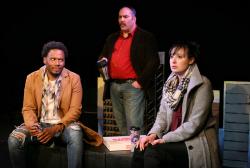 "Dada Woof Papa Hot" is a powerhouse drama exploring the challenges gay male couples face when raising children. Alan (Terry Shea) and Rob (Kevin Broccoli) are older, married, and upwardly mobile. Alan is a freelance writer and Rob is a therapist. The title refers to words spoken by Alan and Rob's daughter, who is heard but never seen. Alan is going through a midlife crisis and finds himself alienated from Rob and his baby girl, who seems to have shunned his affections. Jason (Alvaro Beltran) and Scott (Nick D'Amico, most recently seen in "American Drag") are a younger couple with a child. They meet Alan and Rob for dinner one night and become close friends. Scott and Jason's marriage is less than ideal. Not long after, Jason and Alan end up kissing. It comes off as more sad than romantic because we sense the loneliness burning through these men.

Playwright Peter Parnell's dialogue captures the doubts and insecurities which arise when a child is brought into the equation. Parnell makes it clear this isn't a problem limited only to gay couples, but to heterosexual couples as well. Jay Are Adams and Melanie Stone are compelling as Michael and Serena, friends of Alan and Rob's. Michael becomes resentful of the attention Serena pays to their children. He confides to Alan about his sexual escapades with an actress. Director Ted Clement ("Hedwig and The Angry Inch") has cast his actors well. Shea is mesmerizing as a man who longs to return to an adventurous, hedonistic life while dealing with a troubled marriage.

In one of the most heartbreaking moments of the play, Alan pours out his soul to Jason, telling him: "I don't feel gay anymore." That feeling exposes the conflict between LGBTs winning the right to marry and raise children and the desire to live a life without boundaries or expectations. Broccoli is also in fine form here as Rob deals with his own psychic baggage. Together, Broccoli and Shea create a multi-faceted pair of men trying to make their marriage work. Beltran and D'Amico have an emotionally charged scene near the end of the play, when the truth is revealed about Jason's infidelity. The actors handle it terrifically although their characters haven't been as well-defined in Parnell's script.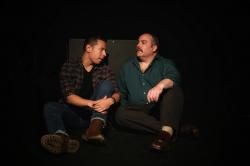 Kerry Giorgi ("Lizzie Borden, Lizzie Borden") turns in solid work as the actress Michael is dating. Giorgi brings a cynical world-weariness to the character which is refreshing. Perhaps it would have been more interesting for Parnell to show how lesbian couples deal with child-rearing and the problems resulting from that. Is it more difficult for children to be raised by two mommies or two daddies? Is a monogamous relationship more of a struggle for married male couples than married female couples? The answers would have been fascinating.

Still, "Dada Woof Papa Hot" works mainly due to Clement's focused direction and the fine ensemble work from the cast. Even when Parnell's writing falters, these actors create compelling, believable people experiencing fractures in their relationships.

Epic Theatre Company has staged the play in Theatre 82's black box space, which gives an intimate quality to the production.

Dada Woof Papa Hot runs through June 22. Epic Theatre Company. Artists' Exchange, Theatre 82. 82 Rolfe Square, Cranston, RI. For tickets, https://www.artists-exchange.org/events and for more information, e-mail Info@EpicTheatreRI.org.
Joe Siegel has written for a number of other GLBT publications, including In newsweekly and Options.
Comments on Facebook