Escaped Alone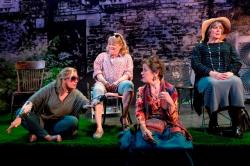 British playwright Caryl Churchill's "Escaped Alone" explores the lives of women and the fears they hold inside. The Gamm's production benefits from the steady direction of Tony Estrella and the solid acting from its cast.
Longtime friends Vi (Marya Lowry) and Lena (Carol Drewes) gather for tea in Sally's (Karen MacDonald) London backyard. They trade gossip and share their feelings on a variety of subjects, such as types of birds, the agony of going to the dentist, and characters on a television show.
The ladies are joined by Sally's neighbor Mrs. Jarrett (Debra Wise), who shares apocalyptic visions of drowned bodies, disease, violence, and other horrible calamities.
The women have a palpable chemistry and their byplay seems natural and convincing. We can tell from the way they relate to each other that there is a deep bond forged from years of heartache.
MacDonald has a memorable scene when Sally goes on an extended rant about her fear of cats. It's comical and chilling at the same time.
Lena suffers from clinical depression and rarely leaves her house. Drewes has some poignant dialogue about preferring to remain in an empty room instead of going to see the ocean.
Vi has committed an act of violence and finds herself haunted by it. Lowry is very effective as Vi, who expresses pain over her estrangement from her teenage son.
Jessica Hill's gorgeous but simple set design and David Roy's evocative lighting work to create a seemingly tranquil world which is on the brink of complete devastation.
I believe Churchill's underlying message is how we occupy ourselves with trivial matters while life and death situations are occurring all the time. We play with our smart phones, obsess over celebrity gossip, and indulge in petty name calling when we should be addressing real problems such as climate change, world hunger, and gun violence.
Lena, Sally, and Vi are locked into their own little worlds and problems and fail to grasp the chaos unfolding all around them. Mrs. Jarrett conjures images of tremendous suffering and inhumanity, while the women continue to be oblivious to all of it.
Considering the bizarre and unpleasant times we're living in, perhaps we can learn to let go of meaningless distractions and get involved with the world around us before it's too late.
"Escaped Alone" is performed along with a short Samuel Beckett play, "Come and Go." In the style of Beckett's classic "Waiting for Godot," it's a mood piece focusing more on emotions than on plot.
Drewes, Lowry, and MacDonald play women who are all keeping secrets from each other. They wear overcoats and hats while sitting rigidly on a bench. It's very unsettling to watch and perfectly complements "Escaped Alone."
The double-bill of "Escaped Alone" and "Come and Go" runs through March 17 at the Gamm Theatre. 1245 Jefferson Blvd., Warwick, RI. For tickets, call 401-723-4266
Joe Siegel has written for a number of other GLBT publications, including In newsweekly and Options.
Comments on Facebook